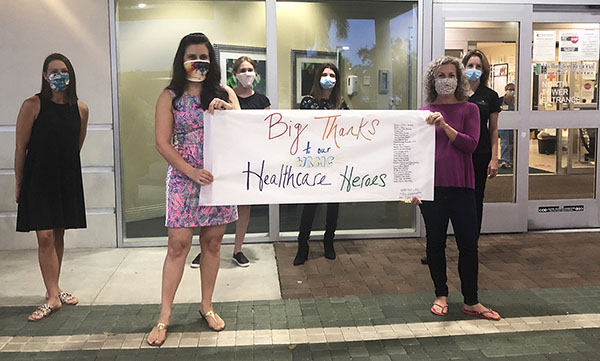 Every Sunday morning, a group of close friends, who all happen to be working mothers, get together for coffee or tea. This has been virtual since the pandemic began, but they still make time for each other. Recently, two of the members, a hospital CEO and a physician, mentioned the continued strain on local healthcare workers.
In the beginning of the pandemic, donations and food deliveries were pouring in for essential workers at hospitals, but that has substantially subsided. The Coffee Talk crew quickly decided to organize a dinner delivery for Wellington Regional Medical Center to show support.
The women focused on community outreach, and donations came in from local businesses, as well as families thrilled to be able to help support those who are taking care of the community. The Coffee Talk crew worked with the CEO of WRMC and used the donations to order dinner from a local woman-owned business, Taylor Made Cafe of Wellington.
The Aug. 4 dinner fed the entire Wellington Regional Medical Center staff of more than 180 essential workers. The women wanted to recognize the entire staff, including the custodial and cafeteria workers, all of whom have been giving their all during the pandemic.
The Coffee Talk crew thanks the following families and businesses for their generous donations: Barbara and Jeffrey Ginsberg, Barbara Kosela, Beth and Tom Marion, Bethanny and Jeff Silverman, Christine Seal, Dana and Doug Murphy, Debra and Todd Barron, Dr. and Mrs. Alvaro Castillo, Estee and Patrick Toole, Gastroenterology Associates of Florida, Herman Law PA, Jennifer and Kevin Shapiro, Jennifer and Michael Preville, Jenny and Stephen Levin, Jillian and Scott Loss, Kathy and Brian Neville, Kimberly and Gregg Walsh, Megan and Adam Wellikoff, Rachael and Brian Bausch, Robyn and Ryan Mishkin, Ron and Suzie Wellikoff, Sonni and Lawrence Greenberg, Staci and Michael Mishkin, Stephanie and Josh Davis, Taryn and Dan Silverstein, Wendy and Marvin Babyatsky, and the Pulmonary, Critical Care & Sleep Disorders Institute of South Florida.
Many people would like to do something to help, but are struggling to figure out what that is, especially when keeping your distance. The Coffee Talk crew is hoping that this will be a recurring monthly event, so if you would like to get involved, reach out at coffeetalkcrew@gmail.com.