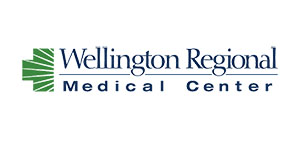 The ER at Westlake, which is an extension of Wellington Regional Medical Center, has been named a 2020 Guardian of Excellence Award winner by Press Ganey. The Guardian of Excellence Award recognizes top-performing healthcare organizations that have achieved the 95th percentile or above for performance in patient satisfaction.
The Press Ganey Guardian of Excellence Award is a nationally recognized symbol of achievement in healthcare. Presented annually, the award honors healthcare providers who consistently maintained performance in the top 5 percent of all Press Ganey clients for each reporting period during the course of one year.
The ER at Westlake is the newly opened freestanding Emergency Department (ED) located in the City of Westlake. The 10,000-square-foot ED contains 11 treatment spaces, including eight exam rooms, one triage room, three rapid medical exam bays, as well as outpatient radiology and lab services. The freestanding ED is capable of treating general emergencies like cuts, bruises or illnesses in addition to medical emergencies such as heart attack and strokes.
"Patient satisfaction continues to be one of the top priorities for Wellington Regional Medical Center and our extended services, such as the ER at Westlake," WRMC CEO Pam Tahan said. "The ER at Westlake was designed with the patient in mind to have a positive experience when visiting the ED. However, for the ER at Westlake to continually earn one of the highest patient satisfaction ratings in the country, is a testament to the physicians, nurses, techs and staff who work there. We believe achieving a high patient satisfaction rating from our patients begins with the dedication and commitment of our staff."
Press Ganey officials congratulated the ER at Westlake staff.
"The caregivers and staff of the ER at Westlake touch the lives of patients and their families in profound ways," said Patrick T. Ryan, chairman and CEO of Press Ganey. "This award reflects their deep commitment to listening to the voices of their patients and our shared mission to reduce suffering and improve the safety, quality, and experience of patient-centered care."
Learn more about Wellington Regional Medical Center at www.wellingtonregional.com.