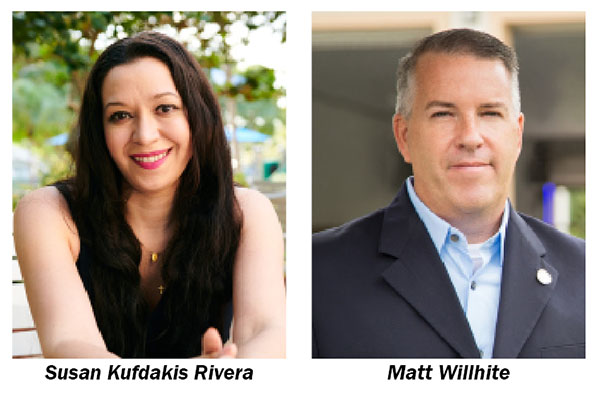 In Florida House of Representatives District 86, Democratic incumbent Matt Willhite has drawn a Republican challenger in Susan Kufdakis Rivera. The election will be held on Tuesday, Nov. 3, but mail-in voting gets underway at the end of September.
Both candidates are Wellington residents. District 86 covers all of Wellington, Royal Palm Beach and Loxahatchee Groves, as well as some eastern areas in central Palm Beach County. The district tends to lean Democratic, with Willhite garnering nearly 60 percent of the vote in his last election.
Rivera, 34, has lived in Wellington for five years and works as an immigration attorney in West Palm Beach. She said she has made it her life's mission to advocate for others and enjoys serving the community in her free time, especially through the Junior League.
Rivera said she is running because she is concerned about the district receiving its fair return from the state.
"When I started researching about more action or things that could be done for our schools, for our economy, for our healthcare system, even taking care of our environment, I didn't get much answers other than, 'You'll have to speak to our legislator,' and he won't always listen to everyone," she told the Town-Crier. "He's been in there for a while and there is still a deterioration of our academic system and our economy."
With that, Rivera decided to run, although she was aware that she faced an uphill battle in a district that trends Democratic.
"There is a great political divide, and our district is heavily Democratic," she said. "I've seen the numbers, so I know I'm at a disadvantage."
She said her goal is to bring unity to the community.
"Different minds have different ideas for the community, but nothing will be gotten for our community unless both sides start to work together," Rivera said. "That's where I'm at my strongest. I'm a moderator."
For more information about Rivera's campaign, visit www.susanforfl.com.
Willhite has served two terms in the legislature and was a Wellington councilman for eight years before he was elected to his current position in 2016. He is a captain with Palm Beach County Fire-Rescue.
Willhite noted that he has passed 14 bills during his four-year tenure, including worker's compensation for first responders with post-traumatic stress disorder, firefighters stricken with cancer due to job-related injury and working with the Loxahatchee Groves Water Control District merger with the Town of Loxahatchee Groves.
"I was able to bring back some appropriations to the district a few times this year, but obviously, it was difficult because of what happened with COVID-19," he said. "Every project we had got vetoed. We continue to fight for our teachers and first responders and homeless people and people who are in need."
Willhite cites his work across the aisle in the Republican-dominated Florida House as proof that he has benefited the district.
"As a freshman and a sophomore, I was able to pass bills in the minority party," he said. "What's important to people is working to get bills passed and helping them."
Willhite stressed that as a first responder himself, he does not have a partisan mindset. When people call 911, they are not asked what political party they belong to, he explained.
"I am able to get things done, even though I am in the minority party," he said.
For more information about Willhite's campaign, visit www.mattwillhite.com.