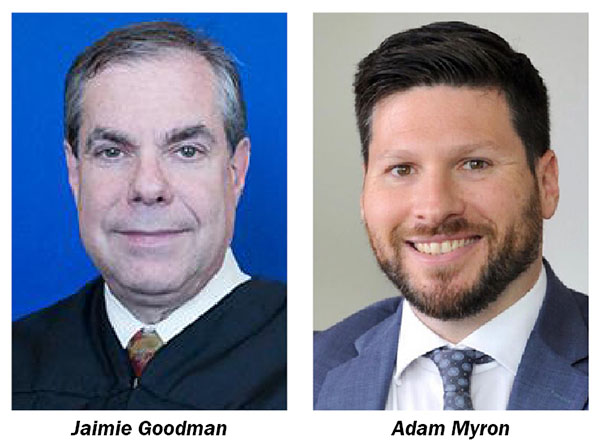 It's fairly unusual for a sitting judge to be challenged, but Judge Jaimie Goodman drew two challengers in his bid for a second term in the Group 30 seat on the bench of the 15th Judicial Circuit in Palm Beach County.
The primary election was a three-way race between Goodman and attorneys Adam Myron and Caryn Siperstein. While Goodman came out on top of that race with 37 percent of the vote, it was not enough to avoid a runoff with Myron, who narrowly edged out Siperstein after a recount. Both of the challengers finished the primary with just under 32 percent of the vote.
Now that Goodman and Myron are heading to a general election showdown, the Town-Crier reached out to the two candidates seeking the six-year, non-partisan term and asked them to describe their background, why they are running and why voters should choose them.
While the election will be held Tuesday, Nov. 3, mail-in voting gets underway at the end of September.
Jaimie Goodman — As a circuit court judge for the past five-and-a-half years, Goodman has presided over numerous jury trials and thousands of hearings. He has experience in the court's Civil Division, Family Division, and Probate and Guardianship Division. "I am running for re-election because I have a passion for public service and a love of our legal system," Goodman said.
He is proud of his service on the bench and looks forward to having the opportunity to continue.
"My rulings in jury trials have never been reversed on appeal, and I have one of the best records in the Circuit Civil Division for managing caseloads," Goodman said. "In 2019 and 2020, I served as a faculty member at Florida Judicial College, teaching circuit civil trial procedure to new circuit court judges."
Goodman said voters should select him because of his experience as an attorney and as a circuit court judge. "Prior to taking the bench, I was an employment discrimination lawyer with more than 30 years of jury trial experience," he said. "I'm AV rated with Martindale-Hubbell, the highest rating for professional excellence, legal ability and ethical standards."
When compared to his opponent, Goodman said that voters should take relevant experience into account.
"My opponent has never tried a single jury trial," he said. "My extensive jury trial experience is the reason voters should re-elect me."
For more information on Jaimie Goodman's campaign, visit www.judgejaimiegoodman.com.
Adam Myron — Myron has practiced law for nearly two decades and mainly handles complex commercial litigation. He is also certified by the Florida Supreme Court as a circuit mediator.
"I'm running for judge because I care deeply about ensuring public confidence in the justice system," Myron said.
He understands that challenging a sitting judge is unusual, but he said there are extenuating circumstances when it comes to Goodman.
"Challenging a sitting judge is not something I take lightly," Myron said. "However, my opponent consistently receives very low rankings in the Palm Beach County Bar Association's judicial evaluations and has shown no signs of improvement in a number of significant categories, such as demeanor and common sense."
Myron believes that his experience will serve him well on the bench. "I have practiced law for 18 years as a complex civil litigator and trial attorney," he said. "In that time, I have honed the analytical skills and demeanor required of a judge."
Myron was raised in Palm Beach County. He did his undergraduate work at Emory University before earning his law degree from the George Washington University Law School.
"If elected, I will always be cognizant of the enormous trust placed in me to be good, to be decent, and to apply the law fairly, equally and with the highest degree of professionalism to everyone who comes into court," Myron said. "Whether they win or lose, people will know they were treated with dignity and compassion."
For more information on Adam Myron's campaign, visit www.adammyronforjudge.com.