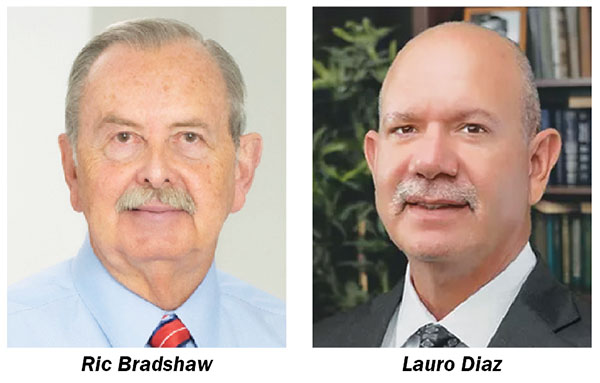 This fall's race for Palm Beach County Sheriff has four-term incumbent Sheriff Ric Bradshaw, a Democrat, being challenged by former Palm Beach County Sheriff's Office Capt. Lauro Diaz, the Republican nominee.
The election will be held Tuesday, Nov. 3 with mail-in voting getting underway in late September.
While Diaz is campaigning on a platform of transparency and fiscal responsibility, Bradshaw's platform is based on his past performance and decades of experience.
Bradshaw advanced to the general election after defeating retired Riviera Beach Police Major Alex Freeman in the Democratic primary. Bradshaw took 61 percent of the vote to Freeman's 39 percent.
"That was based on the question, 'Who do you want to make the best decisions for your family, your neighborhood and your safety?" Bradshaw told the Town-Crier. "Do you want the person with the most experience, has done the job and has proven himself over 16 years as the sheriff and has executive experience in actually running major law enforcement organizations? Or do you want someone who says, 'I think I can do it, trust me?' They want the experienced professional who has actually done it."
Bradshaw said the PBSO staff is satisfied overall about where the department is headed. "We provide them with the best equipment, the best training, the best technology, which translates into the best service for the public," he said.
He characterized this year's campaign as people voting for the person who is best qualified to protect them and their families.
"It's just that simple," Bradshaw said. "They want the most experienced person to run the largest, most technologically advanced agency in the county. We've proven it because we have reduced crime 25 percent, we're on the cutting edge of technology, and we're going to get body cameras here shortly. We're in charge of homeland security, we've fought the gangs, we've fought the opioids, we're doing great with the coronavirus, helping the neighborhoods, helping the healthcare workers, feeding the people in their neighborhoods and getting them to the testing sites."
For more information about Bradshaw's campaign, visit www.ricbradshawforsheriff.com.
Diaz, who was unchallenged for the Republican nomination, said that Bradshaw is a better politician than a sheriff. His campaign slogan and key commitment is "Citizens Before Politics."
"My opponent likes to say that I don't have the 50 years of experience that he has," Diaz told the Town-Crier. "What I don't have is 50 years of experience in reckless spending and arrogant behavior, such as providing special treatment to convicted pedophile sex offenders, like [Jeffrey] Epstein, or like losing important evidence in critical cases, or abandoning the troops to move to a high-priced executive office building to lead from the rear instead of the front, all on the backs of the taxpayers and their hard-earned money."
Diaz added that Bradshaw's leadership is based on political influence more than experience. "If this is what you call experience, then no thanks," he said. "That's not the kind of experience I have or ever want to have, or the kind of leader I am."
He said he is suspicious that Bradshaw recently gave employees a 1 percent across-the-board bonus days before the primary election.
"This doesn't sound like much money, but it turns out to be approximately $4.5 million of taxpayers' money at a time when many people in our county have lost jobs due to the pandemic," Diaz said. "At best, this is irresponsible behavior."
Diaz said he wants to serve all people, not just a few, and treat everyone equally, with respect, professionalism, integrity, compassion and courage in order to achieve a stronger and safer Palm Beach County.
He also wants to teach and raise awareness about scams and identity theft, ensure fiscal accountability by seeing that tax dollars are spent responsibly on programs that improve the safety of all citizens, and keep citizens informed and updated on all threats and emergencies.
For more information about Diaz, visit www.diazforsheriff.com.