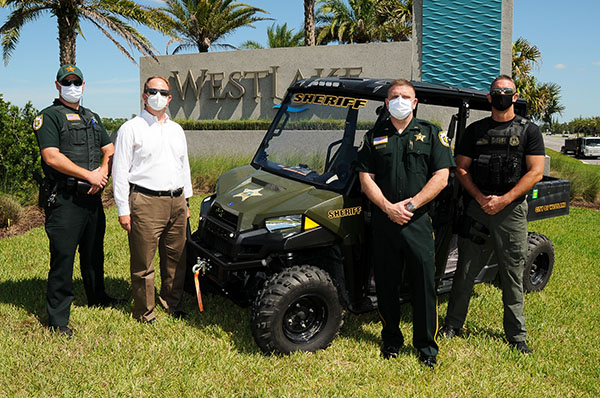 Minto Communities USA recently partnered with the Palm Beach County Sheriff's Foundation to secure an important piece of equipment for deputies patrolling the growing City of Westlake.
Minto donated $15,000 to the foundation to purchase a Polaris Ranger UTV, an off-road vehicle, for the Palm Beach County Sheriff's Office.
Earlier this year, the PBSO contracted with Westlake to provide police services. Minto is the lead developer in the 3,800-acre master planned community.
"Since we are still a new city with a lot of construction and undeveloped land, we thought deputies could benefit by having a vehicle that gives them easier access to places that regular patrol cars would have a hard time navigating," Minto Vice President John Carter said. "We are pleased to work with the sheriff's foundation and applaud them for all of the work they do to support law enforcement."
Rick Seymour, chair of the Palm Beach County Sheriff's Foundation, said that the Minto donation fits well with the mission of the foundation.
"Our nonprofit organization exists to help people in the community and to help fill the gaps for the sheriff's office when there is something they need that is not budgeted for," he said. "We rely on the generosity of private companies like Minto to help us achieve our mission."
Lt. Craig Turner, PBSO district commander in the Westlake area, thanked both Minto and the foundation for stepping up. "The new vehicle will make it possible to do our job more effectively and safely in the City of Westlake," he said.
Westlake is approved for 4,500 homes and more than 2 million square feet of commercial space. Since opening for sales nearly three years ago, Minto has sold more than 750 homes, outpacing projections.
The PBSO not only patrols the City of Westlake, but many of its employees also live there. Minto's Welcome Heroes program offers a 3 percent discount off the base price of a new Minto home to law enforcement personnel, firefighters/EMTs, medical professionals, teachers, military and other currently active civil servants.
Westlake is located at 16610 Town Center Parkway North in the City of Westlake on Seminole Pratt Whitney Road between Southern Blvd. and Northlake Blvd. For more information on the community, call (888) 299-3628 or visit www.westlakefl.com.