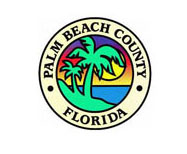 Palm Beach County Mayor Dave Kerner announced the move to Phase 3 of COVID-19 restrictions on Friday, Sept. 25, removing state-level restrictions on businesses, including restaurants. However, several businesses, such as restaurants and bars, must still operate at 50 percent capacity under county orders.
"We have some great news regarding the positivity rate and the efforts of the residents of this county to keep our positivity rate and the public health very safe and sound," Kerner said at a press conference at the county's Emergency Operations Center. "We had the lowest positivity rate yesterday since May 18 of 2.92, and our recent trends continue to move in a downward direction."
Kerner attributed the trend to a safe return to Phase 2 in Palm Beach County, as the Palm Beach County School District returned to classroom teaching last week.
"The school district and the Florida Department of Health in Palm Beach County will continue to gather and analyze health metrics and monitor for a significant resurgence, but right now there's no indication… that that's occurring here in Palm Beach County," he said
Kerner added that he and the county administrator had been in discussions with Gov. Ron DeSantis that morning regarding what the move to Phase 3 would mean for Palm Beach County.
"There's four basic principles involved here that will change the way things are done here in Palm Beach County," Kerner said. "The first and most important one is that the State of Florida is no longer involved in the regulatory scheme of COVID-19. Their regulations are being repealed, and any regulations related to COVID-19 needs to emanate from the local government."
The second principle details the right of an owner to operate a business in the county.
"There will not be any business that is not allowed to operate in Palm Beach County as of today, assuming that the executive order by the governor is signed, and we just got off the phone with him, and I anticipate that the executive order will be signed," Kerner said.
The third principle is that restaurants and bars will be allowed to operate at 50 percent.
"That restriction remains in place," he said. "We will evaluate the health metrics as we move forward deeper into Phase 3, but as of right now, restaurants are capped at 50 percent capacity. And right now, bars will be capped at 50 percent capacity."
The fourth principle is that the collection of fines for mask violations will be suspended. However, the mask mandate itself remains in effect.
"In Palm Beach County, we're one of several counties in the state that has a mask mandate, which means that you have to wear a mask in public," Kerner said. "That mask mandate has been complied with very well across the board by the residents of this community. The compliance has been so widespread that it hasn't been an issue in this county."
He stressed that the state lifting COVID-19 restrictions does not mean that the county cannot continue to impose regulations.
"We still have the ability to regulate how a bar operates, and we still have that ability to regulate the capacity," he said.
Kerner pointed out that on Thursday, Sept. 24, the county repealed restrictions on nighttime operations for restaurants, although they still must maintain 50 percent capacity.
More information about COVID-19 in Palm Beach County is available at www.pbcgov.com/coronavirus.