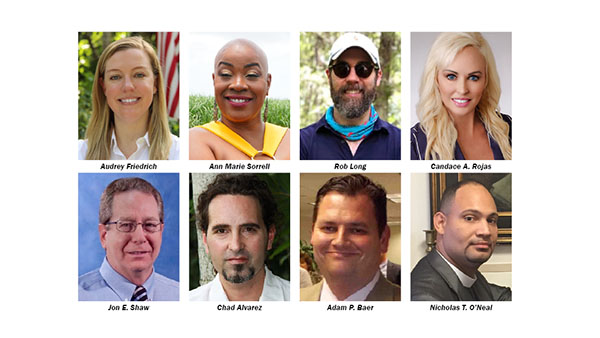 Among the items on the general election ballot are three seats on the non-partisan Palm Beach Soil & Water Conservation District Board of Supervisors. There are eight candidates seeking three seats on the board that operates this little-known public agency.
The State of Florida mandates that each county have a Soil & Water Conservation District. It works with local businesses and agencies countywide to provide conservation services, including reduced-fee evaluations by its mobile irrigation lab and education for landowners on ways to protect and sustain environmental resources.
This year, three seats on the five-member board are up for election. Audrey Friedrich and Ann Marie Sorrell square off for the Group 2 seat. Incumbent Jon E. Shaw is vying for the Group 3 seat against challengers Chad Alvarez, Adam P. Baer and Nicholas T. O'Neal. Finally, incumbent Rob Long faces a challenge from Candace A. Rojas for the Group 4 seat.
The Town-Crier reached out to the candidates, asking them to describe their background and qualifications. While most responded, for those who did not, information was included from other public sources.
GROUP 2
Audrey Friedrich — Friedrich, a 37-year-old licensed psychologist, owns her own practice in Boca Raton. She has been a Florida resident since 1998, and a Palm Beach County resident for six years.
"Over the past 10 years, I have attended agriculture conferences throughout Florida, as my husband's business is a tropical plant nursery in Loxahatchee," Friedrich said. "I believe in practical solutions to protect the natural resources of beautiful Palm Beach County."
She said that her background makes her an ideal candidate for this position.
"I know the value of being connected firsthand in the agricultural world, and have developed relationships with local growers and farmers, which are key in addressing the needs of the community," Friedrich said. "My career as a psychologist has trained me to be an effective problem solver, listener and mediator. I also understand the role of the Soil & Water Conservation District, as I have attended the monthly board meetings over the past several months."
Learn more at https://voteaudreypbc.com.
Ann Marie Sorrell — Sorrell grew up in Pahokee, where her grandfather was a farmworker in the sugarcane industry. The 40-year-old has been a Palm Beach County resident for 37 years. An award-winning business leader, Sorrell is the founder and CEO of both the Mosaic Group and Cannabiziac. She has been involved with environmental causes for more than 15 years.
Sorrell has worked with the Arthur R. Marshall Loxahatchee National Wildlife Refuge, the South Florida Water Management District, Glades Lives Matters and worked with West Palm Beach Mayor Keith James on environmental and sustainability issues.
"Environment and conservation matters are extremely important to me, among the many causes I support and advocate for," Sorrell said. "I bring a fresh and diverse voice that will engage residents who are not currently engaged."
She asked voters to choose her for this position. "I support our agricultural community; I will educate our businesses and residents about issues impacting our natural resources; and I bring a fresh voice and new leadership to sustainability and conservation matters."
Learn more at www.electannmariesorrell.com.
GROUP 3
Jon E. Shaw — Incumbent Shaw has decades of experience working on local environmental issues.
"I have spent the last 40 years working in Palm Beach County either for the South Florida Water Management District or as an environmental consultant," he said. "I am a licensed professional geologist, and my specialty is water resources."
Shaw joined the board last year to fill a vacancy.
"I spent 25 years on the Palm Beach County Groundwater & Natural Resources Protection Board," he said. "I was looking for another way to perform my civic responsibilities and was fortunate to be appointed to this board to fill a vacant position."
Shaw asks voters to consider his background when deciding who to vote for.
"My entire 40-year career has been to protect the environment and water resources of Palm Beach County," he said. "I have lived in Palm Beach County for 40 years, and have children and grandchildren who live here. I have worked well with the current board as secretary/treasurer and hope to continue the level of professionalism working with individuals who sincerely care about the soil, water and environmental enhancement for future generations."
Chad Alvarez — Alvarez brings years of experience as an environmental activist.
"I am a 43-year-old activist and Florida native who has been involved for over a decade in environmental and public policy," Alvarez said. "I want to improve waterway and soil health. I believe we can improve waterway health by reducing the fertilizers and pesticides that drain into our canals from farms and households; reduce production of algae by limiting ash produced by burning sugarcane; and speed up the rate of water flow in waterways to discourage the same algae's growth. Soil health would improve by limiting sugarcane burning and rotating crops for greater vitality."
He said he will work toward "positive change" on the board.
"The three most important reasons that a citizen should vote for me are: I am open to new ideas and science, I am truthful and I care. I am going to work for the positive changes listed above and improving our unique and dynamic soil. I care what happens to both people and the environment."
Adam P. Baer — Baer is a 42-year-old attorney with a bachelor's degree from the University of Florida and a law degree from Florida State University. He has lived in South Florida his whole life, and he has been an attorney since 2004, working as a prosecutor in Broward County before relocating to Palm Beach County, where he now serves the legal needs of clients. He has said that the district needs board members who can balance the requirements of the environment while also protecting area farmers and workers, and that these issues do not exist in a vacuum. There is a way of balancing and protecting jobs and livelihoods without it being at the expense of the environment, he explained.
Nicholas T. O'Neal — O'Neal has lived in Palm Beach County for six years and currently serves as a West Palm Beach Housing Authority commissioner and on the board of directors of Habitat for Humanity.
"I understand the role of being elected encompasses advocating and giving oversight to the staff that manages the day-to-day operations of Palm Beach Soil & Water Conservation District," he said. "I'm married, I have five beautiful children, and I work as a victim's advocate in the domestic violence unit for the Palm Beach County State Attorney's Office."
O'Neal said that he is deeply concerned with environmental sustainability.
"I have a concern for conserving/using less natural resources, pushing for more environmentally sustainable ways to get our food to our table and further educating residents about the district and resources that are available to them," he said. "Residents should vote for me because I want to further the mission of the Palm Beach County Soil & Water Conservation District, I want to encourage more resident awareness/participation, and I want to help ensure a better environment for not only my children, but for all to enjoy."
GROUP 4
Rob Long — In 2016, Long ran with the goal of wanting to create an increased focus on environmental stewardship, public outreach and water resource management. Now the incumbent, Long has said that his background in environmentalism, engineering, activism and business gives him perspective and skills to work with the district staff, and that he is proud of the accomplishments of the past four years. Long has experience as a field engineer and a scientific background with a bachelor's degree in civil engineering from Penn State and an MBA from the University of Florida. Learn more at www.facebook.com/voteforroblong.
Candace A. Rojas — With a bachelor's degree in sociology from Duquesne University, Rojas has said that she is not a professional politician. Her background includes founding Coastal Concierge Home & Yacht Management and the iCan Multimedia Network, and serving in leadership positions with the Palm Beach County PTA. Rojas has said that she favors improvement of the district's structure without changing the district completely, adding additional committees, not sharing an administrator with another county, and changing the venue and time of meetings to increase stakeholder input. She has said that county agriculture is vital to maintain local farmers for local food sources, and that the district must continue to improve the quality of water, protecting it from sea level rise and saltwater intrusion. Learn more at www.facebook.com/candacepalmbeach.