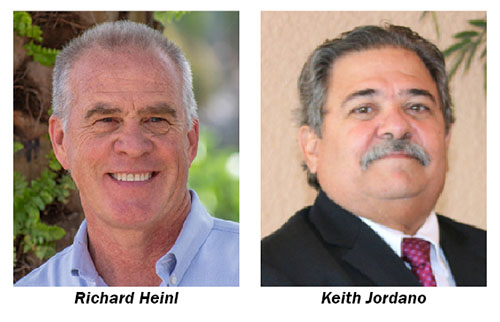 Acreage residents Richard Heinl and Keith Jordano are running for Seat 2 on the Indian Trail Improvement District Board of Supervisors in the Tuesday, Nov. 3 election.
Seat 2 is being vacated by Supervisor Tim Sayre, who chose not to seek a new, four-year term. The race between Heinl and Jordano is the only ITID race on the ballot. Seat 4, held by ITID President Betty Argue, was also up for election. Initially, former ITID Supervisor Carol Jacobs filed to run. However, Jacobs withdrew her candidacy shortly after filing, awarding the seat to Argue without a challenge.
Heinl, a Realtor and member of the Acreage Landowners' Association Board of Directors and on the ALA's Western Equestrian Shows & Trails (WEST) committee, said he wants to be more involved with the community.
As the former property manager of a large horse farm in Wellington, where he previously lived, Heinl said he would love to see a network of equestrian trails in The Acreage so people could ride.
"I'm the vice president for the Acreage Landowners' Association, and I'm also a board member for WEST," he said. "I'm in the horse world, and I'm concerned about the horse aspect of things here in The Acreage."
He would like to see growth in community spirit in The Acreage and the development of local governance in order to have stronger impact on local issues.
"We don't have a lot of input as to what's going on with development in the area, and I would like to see that change," Heinl said. "I'd like to see the residents having greater input. The people want their country way of life, and I'm all for that."
Heinl got involved with real estate sales about four years ago, following in the footsteps of his mother, who was a managing real estate broker for Sotheby's in New York. While in New York, he was a licensed contractor before moving to South Florida nearly two decades ago. He is married and has five grown sons.
Jordano, a 21-year Acreage resident, has run several times unsuccessfully for the ITID board, most recently against Supervisor Joni Martin in a close race in 2018.
Jordano is a past president of the Acreage Landowners' Association and the Royal Palm Beach Rotary Club, and he has been involved with the Palm Beach Association of Insurance & Financial Advisors, among other positions.
Jordano said he is running because he feels The Acreage needs an independent voice. "Somebody who is going to listen to what the residents really want, like myself, who has been out here longer than most of the people on the board," he said.
He believes that he would bring a great deal of community history to the board, but also has a good feel for what current Acreage residents are looking for.
"I feel I would bring a more past, present and future representation to the board," Jordano said.
Before moving to The Acreage, Jordano was in the U.S. Navy special forces for 10 years and did 10 years as a consultant with the U.S. Department of Energy and the Department of Defense. He has been the president of the Jordano Insurance Group for 28 years.
Jordano has a bachelor's degree in business administration from Loyola University, and he has been married 24 years and has three children. Learn more about Jordano at www.keithjordano.com.