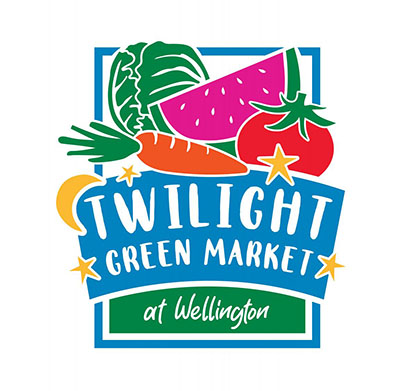 Festival Management Group and the Village of Wellington are excited to announce the launch of the "Twilight Green Market at Wellington" beginning Friday, Oct. 2 from 5 to 9 p.m. The event will continue weekly on Friday evenings through March 26, 2021.
The Twilight Green Market at Wellington is focused on growing a true community market, which will feature unique, locally sourced fresh farm-to-fork produce from farmers and growers, produce ranging from fruits and vegetables, herbs, spices and fresh flowers to everyday favorites like fresh baked goods and local Florida honey. In addition, the market will showcase artisan foods, seafood, flowers, breads and pastries, an eclectic array of locally grown herbs, artists, unique crafters and incorporate plant-based/vegetarian products.
The market will be held at the newly constructed Wellington Town Center Promenade boardwalk showcasing the scenic waterfront of Lake Wellington as a backdrop to the market. Each week there will be a market showcase of an exhibitor conducting product demonstrations, a cooking demo or educational presentations.
The market will provide shoppers with a convenient, relaxed and unique atmosphere to pick up last-minute meal items. Shoppers can stroll the waterfront, have a glass of wine and shop for local, fresh products to incorporate into planning weekly meals on their way home from work. Live music played from the gazebo will provide ambient background music to the market.
"We're excited for the launch of the Twilight Green Market. We've never done anything like this before," said Nancy Stewart, president of Festival Management Group, the producer of the Wellington Bacon & Bourbon Fest, the South Florida Garlic Fest, Delray Affair and LagoonFest.
The Twilight Green Market is being planned with the safety of both exhibitors and the attending public as the top priority. The safety plan for the market will adhere closely to CDC guidelines and includes a number of key components including: booths spaced out to permit extra spacing between; the requirement that all exhibitors be masked and have hand sanitizer on hand to augment the sanitizing stations provided by the event; and safety guideline signs at all entrances will require that all attendees be masked.
There are many additional details to the safety plan and a couple of bonuses. All booths will have placement on the beautiful, newly constructed boardwalk with ample space to keep the public moving around the market.
For more information, or to inquire about applications, call (561) 279-0907.