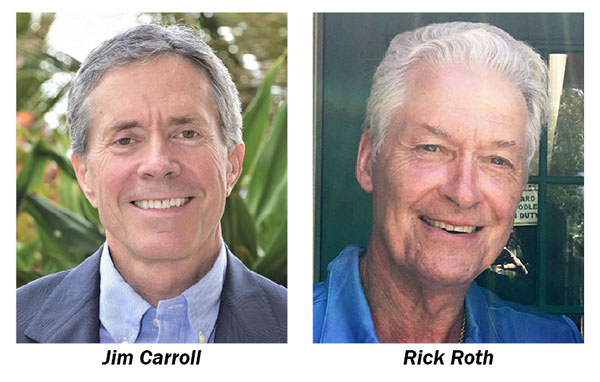 Attorney Jim Carroll is challenging incumbent State Rep. Rick Roth for the District 85 seat in the Florida House of Representatives. The election will be held Tuesday, Nov. 3, with mail-in voting getting underway at the end of September.
District 85 covers The Acreage, Westlake, parts of West Palm Beach, Palm Beach Gardens, Juno Beach and North Palm Beach.
Carroll, the Democratic candidate, said he is running because he gets satisfaction from making people's lives better.
"Especially now, with the threats that we face in the district, South Florida and the state, there's a lot of work that needs to be done to make people's lives better," he said. "I'm a husband, I'm an attorney and I'm a community leader involved in a lot of community activities. To me, this would be a full-time job."
Carroll noted that he has attended most of the Indian Trail Improvement District meetings for the past 15 months, some of them via Zoom.
"I'm pretty familiar with the area's issues and concerns, like roads and mobility, infrastructure and incorporation as a municipality," he said. "That's an important issue that, unfortunately, didn't make it very far through the last legislative session."
Carroll, 65, has been active during the COVID-19 pandemic distributing food at Osceola Creek Middle School and helping with COVID-19 testing. He also handed out candy at the trunk or treat event at Citrus Grove Park in The Acreage last year.
"I think we're pretty lucky to have a community like The Acreage," he said. "How many metro areas have a rural equestrian community in the middle of the area?"
As an attorney for 30 years, Carroll did litigation and legal representation for governmental entities and special districts, as well as representing people through legal aid who could not afford attorneys. He is married and has two children attending state universities in Florida.
His most pressing concerns are to help Florida recover from the economic crisis created by COVID-19, bring affordable healthcare and affordable housing, fix contaminated waterways and fight overdevelopment. For more information, visit www.jimcarrollforstatehouse.com.
Roth, the Republican incumbent, is finishing his second term as the area's representative in Tallahassee. Before his election, he was well-known in agricultural circles as the owner of Roth Farms in western Palm Beach County.
"I've really been focusing more than anything else on children's issues, and the last couple of years I have been promoting adoption," he said. "I believe in today's world, there is a third choice, and I call it the better option. You're pro-life, pro-choice and then there's adoption. I passed a bill this year that allows more people in Florida to receive an incentive."
He has also gotten a proposed constitutional amendment on the 2020 ballot that would allow homeowners to more easily transfer their homestead deduction to a new home.
Roth has also worked on legislation to protect agricultural lands from being developed.
"We need to have smart growth that does not impact our pristine waters," he said. "We need to get back to a dollar amount. We tried to do it last year, but it didn't go anywhere. The governor is very much in support of buying lands around springs and pristine waters, and I'm also in favor with him in conserving lands. With an agricultural background, I'm the one who wants to do that next year."
As an agriculturalist born in Palm Beach County, Roth said that he is a big advocate for farming.
"Agriculture is one of the best things going in Palm Beach County," he said. "A lot of people don't know that. Half of the land in Palm Beach County is in agricultural production."
Roth, 68, is married and has three children and three grandchildren. For more information, visit www.rickroth.org.