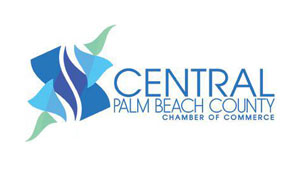 The Central Palm Beach County Chamber of Commerce and the Hispanic Chamber of Commerce of Palm Beach County have announced that they have become one organization. The agreement, approved by both chamber boards, was finalized on Friday, Oct. 16.
Since the beginning of the pandemic, there has been a trend around the nation for chambers to become more innovative and sustainable by aligning with other chambers and business organizations. Strategically, this agreement made sense as both organizations have a similar vision.
"With the addition of the Hispanic Chamber, we now will serve a much broader and diverse business community through advocacy, business and economic development, education and leadership," said Mary Lou Bedford, CEO of the Central Palm Beach County Chamber. "We look forward to welcoming the Hispanic Chamber members and getting them immersed in the many opportunities we have to offer."
As part of the agreement, Hispanic Chamber CEO Maria Antuña, a well-known figure in the local business community, will become the executive vice president of the Central Palm Beach County Chamber. She will focus on business development and Hispanic affairs.
The current Hispanic Chamber board members will be offered board seats in the Central Palm Beach County Chamber through the end of the year, and the Central Chamber will have legal rights to the Hispanic Chamber of Commerce of Palm Beach County name.
A new Hispanic advisory committee will be formed to focus on issues specifically pertaining to Hispanic members and to plan special events.
The Central Palm Beach County Chamber has traditionally focused on members who are based in a geographical region, roughly from The Glades east to Manalapan and from Palm Beach Gardens south to Boynton Beach. The acquisition expands its reach and influence throughout the county.
"This is a win-win for both of our organizations," Antuña said. "We have always been a strong organization, with a mission of helping Hispanic businesses as well as the Hispanic community succeed, so now we will be able to do that on a larger scale."
The Central Palm Beach County Chamber is a private, membership organization comprised of businesses, municipalities, civic organizations, educational institutions and individuals. It advocates for the business community and supports economic development initiatives.
The Hispanic Chamber was started more than two decades ago to provide a path of education, assistance and mentoring to the Hispanic business community in Palm Beach County, but later evolved to serve all demographics and business entities.
"This coming together makes sense on a lot of different levels," said John Carter, vice president of Minto Communities USA and chairman of the Central Palm Beach County Chamber. "I feel both of our missions are aligned, and we share the same values. It will also give us some more critical mass to expand and evolve our organization to better benefit all members and community."
Learn more about both organizations at www.cpbchamber.com and www.hispanicchamberpbc.com.