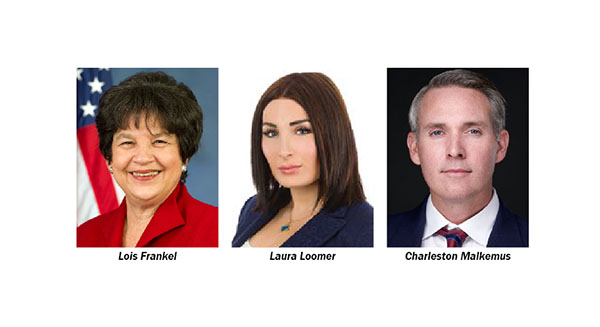 Incumbent U.S. Rep. Lois Frankel (D-District 21) is facing two challengers this election season — conservative political activist Laura Loomer, who won a hotly contested Republican primary in August, and independent candidate Charleston Malkemus. All three names will be on the Nov. 3 election ballot.
Florida's 21st Congressional District takes in large swaths of central and southern Palm Beach County, including all of Wellington. The district trends Democratic. Frankel did not face a challenger in the 2018 cycle. In 2016, she easily defeated her Republican challenger, taking just under 63 percent of the vote.
An attorney, Frankel has served in Congress since 2013. Before that, she was mayor of West Palm Beach from 2003 to 2011 and was a member of the Florida House of Representatives from 1986 to 2002, serving as minority leader toward the end of her tenure in Tallahassee. She earned her law degree from Georgetown University in 1973.
Frankel said that her values reflect the values of the community she serves.
"I believe in the greatness of human diversity, that healthcare should be a right not a privilege and that government plays an important role in our lives," she said. "Our country is facing an unprecedented public health crisis. The pandemic has killed more than 200,000 Americans and left millions sick, out of work, and socially disconnected from friends and family."
Frankel believes that President Donald Trump has misled the public about the pandemic's danger, bungled containment efforts and abandoned new relief.
"I bring mature judgment that is based on science to the response, working every day to get constituents resources needed to access healthcare and financial aid," she said.
Her priorities are to safely return people back to work and children back to school.
"[Getting] back to some normality is top of mind for most, as is having access to affordable, quality healthcare, especially in light of Trump's efforts to repeal the Affordable Care Act," Frankel said, adding that people are also worried about the threat of climate change, racial injustice, gun violence, the security of Medicare and Social Security, and the operation of the United States Postal Service.
"Women are also threatened about loss of access to full reproductive care," she said. "My priorities now and going forward are supporting policies to address these issues."
As a member of the House Appropriations Committee, Frankel said that she has helped to advance funding for lifesaving medical research, childcare, education, healthcare, clean energy projects, Everglades restoration and Israel's security.
"I expect to continue these efforts if re-elected," she said.
For more information, visit www.loisfrankelforcongress.com.
Loomer, 27, a graduate of Barry University in broadcast journalism and political science, easily won the Republican primary over five other candidates. She is well-known in conservative circles for her right-wing activism, including anti-Islamic protests and high-profile fights with social media companies.
"Our country is really at a crossroads right now," she said. "We're seeing a drastic shift toward the radical left, and I want to keep America America. We're not going to be able to do that if we have radical members of Congress who are advocating for communism, anti-American policies, trying to erode our constitution and erase our history, topple our monuments and promote political strife."
As a Jewish woman, Loomer said she is concerned about widespread anti-Semitism she attributes largely to "The Squad," a name popularly used to describe young progressive congresswomen Ilhan Omar of Minnesota, Alexandria Ocasio-Cortez of New York, Rashida Tlaib of Michigan and Ayanna Pressley of Massachusetts.
"In this district, Congresswoman Lois Frankel [has] been in Congress four terms. She's been in politics 34 years, which is longer than I have been alive," Loomer said. "According to our internal polling, 87 percent of the constituents in this district cannot name a single piece of legislation that she has proposed or anything that she has done for the district."
She also wants to address issues of "counterculture and big-tech" censorship and free speech, which she feels is the biggest threat to the constitutional republic.
"Free speech is the bedrock of our society, and right now we're witnessing a full-blown assault," Loomer said.
Her accomplishments include being an award-winning journalist and business owner.
"I own a media company here in Florida called Illoominate," she said. "I worked with Project Veritas as an undercover journalist. My investigations have uncovered voter fraud and political corruption on both sides of the aisle."
If elected, Loomer said she wants to fight for the people and fight back against the radical left.
"I also want to be a change agent for the Republican Party," she said. "I'm not going to Congress to make friends. I'm not going to Congress to do the bidding of the Republican Party. I'm going to Congress to fight for the people."
For more information, visit www.lauraloomerforcongress.com.
Malkemus is a 20-year veteran of the U.S. Marine Corps, where he attained the rank of major, with two combat tours in Iraq, where he was a leading scout sniper and reconnaissance Marine with operational experience in international relief and disaster response.
"I know how to lead and manage a crisis," he said. "I've worked in technology startups, as an engineer, entrepreneur and multi-time chief technology officer. "We have the smartest, most innovative and hardworking people on the planet. America can lead the world in tackling challenges in healthcare, housing, education and climate."
Malkemus said that his children attend Palm Beach County schools and that he and his wife know what is at stake, navigating the same challenges as many other people.
Raised by a single mother with his two older sisters, Malkemus said he learned early the values of hard work, sacrifice, determination and faith. He earned multiple honors as a scholar-athlete attending the Pine Crest School in Fort Lauderdale, where he led his swim team to two Florida state runner-up titles. He earned a bachelor's degree from the University of Pennsylvania.
Malkemus also co-developed the Veteran's Trust for transitioning veterans, held an 81-mile commemorative walk from Palm Beach to Miami and testified before the U.S. Congressional Small Business Committee on veteran entrepreneurs.
If elected to Congress, he said he would work to improve healthcare, housing, education, childcare and climate change, which he said present huge opportunities for America in growth and innovation.
"We can lead the world in tackling these challenges, paving the way for a stronger, more efficient and an innovative America," Malkemus said. "The American spirit is creative, resourceful and alive, but we are facing an unprecedented global pandemic, financial crisis and social unrest at the same time. We must get out of these crises and return American families to their lives. We have a long road ahead and many dangerous decisions headed our way."
He added that America needs a cohesive national strategy.
"At a time when we should be coming together, America is being divided through extreme partisan politics," Malkemus said. "We need to end the hatred and tackle these three crises head on."
For more information, visit www.votecharleston.com.