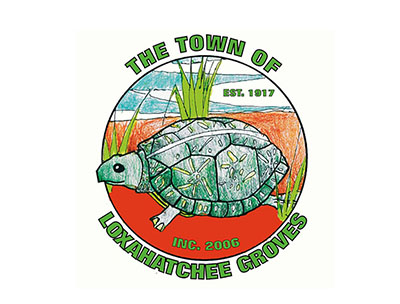 The Loxahatchee Groves Town Council recently gave preliminary approval to convert the land use map and zoning for Noah's Ark Preschool on Okeechobee Blvd. from county regulations approved in 1982 to current town codes.
The Noah's Ark property is on the north side of Okeechobee Blvd., 250 feet west of D Road. It is a total of 4.88 acres with a daycare center and preschool for 87 children and a 120-seat church building of 6,169 square feet. It was granted special exception approval by Palm Beach County prior to the incorporation of the town.
At the time of approval by the county, daycare and church assembly were permitted special exception uses. However, under the town's comprehensive plan and uniform land development code, the appropriate categories for the existing development contains legal non-conforming uses.
At the council's Sept. 22 meeting, town planning consultant Jim Fleischmann said the application asks that the church component be deleted, and the daycare student capacity be increased from 87 students to 120 students.
"That's what the crux of the matter is," Fleischmann said. "They want to keep the existing facilities, and they want to become consistent with the town's future land use and zoning designations. However, they are asking that only the single use of daycare be approved on the property."
The Loxahatchee Groves Planning & Zoning Committee recommended approval of the change in a 4-1 vote on Aug. 20 with the recommendation that the owner provide a 40-foot to 50-foot buffer along Okeechobee Blvd. for use as a multipurpose trail consistent with the Okeechobee Blvd. overlay plan currently in process. Staff also recommended approval of the applications.
Land planner Josh Nichols, representing the applicant, said the most significant change was to increase the sewage capacity, which the applicant has done, and the floor ratio is still less than half of what could be allowed.
Nichols added that 45 of the 87 children attending the school are local residents.
"This is a community-serving facility and has been for more than 40 years," he said, adding that the owner had agreed to pay property taxes to the town since it would no longer be used as a church.
Councilman Robert Shorr said he would like to see the multipurpose trail expanded so that 30 feet goes down the east side of the property, as well as a donation to the town from the owner to go toward improvements to the trail.
"I know we're not doing the site plan now, but this is what I'd like to see," Shorr said, adding that the property is overgrown on the east side with Brazilian pepper trees.
Councilwoman Phillis Maniglia made a motion to approve the preliminary reading of the zoning amendment, which carried 5-0.