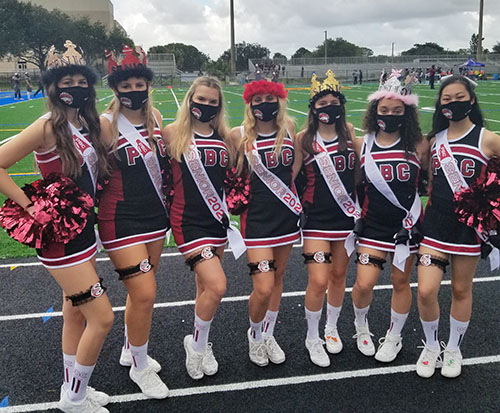 Dominant and opportunistic. That may be the best way to describe the play of the Glades Central High School Raiders in their 41-0 shutout of the Palm Beach Central High School Broncos on Saturday, Oct. 31.
The afternoon game was the delayed season opener for both teams and was played on a neutral field, Wolverine Stadium at Wellington High School. In the game, the Raiders scored touchdowns in four different ways — three passing, one rushing, one by special teams and one on an interception return. The six touchdowns were scored by six different Raiders players.
The only thing the Raiders did not control during the game was the weather. The game was delayed for roughly two hours in the first quarter by lightning in the area.
As dominant as the Raiders' offense was, their defense was just as strong. The Raiders' defense limited the Palm Beach Central offense to just 140 yards of total offense — 45 yards passing and 95 yards rushing. And when Palm Beach Central's offense made a mistake, Glades Central's defense took full advantage.
Case in point, two third-quarter touchdowns by the Raiders were a loose-ball recovery in the end zone by Keontey Fowler after a bad snap over the head of the Broncos' punter, and Jacob Camacho's 88-yard interception return for a touchdown off an errant pass by Palm Beach Central's quarterback Ahmad Haston.
The Raiders opened the scoring at the 3:08 mark of the first quarter when quarterback Zo'Marion Harper threw a 35-yard touchdown pass to Raiquan Porter. Midway through the second quarter, the Raiders partially blocked a Broncos punt, which put the ball at Palm Beach Central's 28-yard line.
On the next play, with 5:10 left in the first half, Harper threw a 28-yard touchdown pass to Antavious Tarver. The Raiders led 14-0 at halftime.
In addition to the two defensive third-quarter touchdowns, the Raiders added two additional third-quarter scores on a 13-yard run by Jahiem Humphreys at the 8:45 mark and a 17-yard pass from Harper to Robert Luckas with 2:10 left in the quarter. The rest of the third quarter and the entire fourth quarter were played with a running clock.
Glades Central's Rashad Jackson was thrilled with the performance of his team in his debut as the head coach of the Raiders.
"Our team performed well in the game," Jackson said. "We made a few mistakes, but we learned from them, regrouped and didn't repeat them. We played Raider football."
Palm Beach Central's Tyler Young led the Broncos with 72 yards rushing. The Raiders' Harper completed 10 of 20 passes for 134 yards.
Glades Central is now 1-0 while Palm Beach Central's record stands at 0-1.