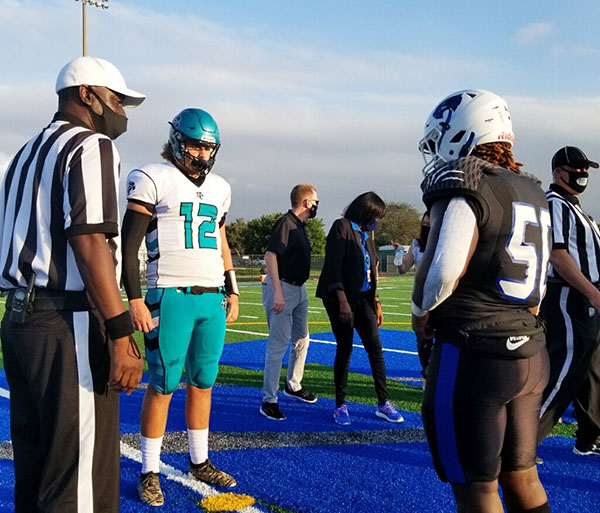 Royal Palm Beach High School quarterback Peyton Mainolfi threw for 359 yards and four touchdowns to lead the Wildcats to a 26-21 season-opening victory on Friday, Oct. 30 against host Wellington High School.
Three of Mainolfi's touchdown passes were caught by Cody Wasielewski, who nabbed four passes for 154 yards in the game.
The Wildcats won the turnover battle, as its defense snagged three first-half interceptions, two by Eric Singleton. In fact, three of Wellington's first four drives ended with interceptions. The Wildcats didn't commit a turnover in the game.
The Wildcats' victory spoiled senior night for the Wolverines, as well as the grand re-opening of Wolverine Stadium, which now has a new multipurpose turf surface.
While the Wildcats never trailed in the game, taking a 7-0 lead at the 6:07 mark of the first quarter on a 42-yard touchdown pass from Mainolfi to Wasielewski, the key moment of the game was a third-down play late in the fourth quarter by the Wildcats.
With 2:23 to go in the game, Wellington head coach Tom Abel called a timeout. Royal Palm Beach faced a third-and-12. With a stop, Royal Palm Beach would have been forced to punt, thereby giving the Wolverines another chance to march down the field for the go-ahead touchdown. But Mainolfi dropped back and found Singleton for a 13-yard pass and the game-clinching first down. Then, the Wildcats were able to run out the clock to end the game to secure the win.
"This victory feels wonderful," Royal Palm Beach head coach Darin DeCosta said. "I'm happy for our school, students and our team. We played tonight with minimal mistakes."
For Mainolfi and Wasielewski, their play in the game was an extension of their practice time together in recent months. "We had been working together a lot over the summer," Wasielewski said.
Mainolfi gave credit to his teammates on offense for his success passing the football. "Our offensive line played great, and my receivers had no drops," he said.
While Abel was pleased to see that his Wolverines didn't give up, he gave credit to Royal Palm Beach for a strong game. "Royal Palm Beach played well tonight," Abel said. "We shot ourselves in the foot with 11 penalties, and the difference in the game was a pair of tipped balls, which they caught and turned into touchdowns."
To recap the scoring, Wasielewski gave the Wildcats a 14-0 lead at the 5:15 mark of the second quarter when he caught a short pass from Mainolfi and then sprinted 72 yards to paydirt for his second touchdown reception. At the 2:49 mark of the second quarter, Wolverines quarterback Ryan Anthony cut the Wildcats' lead in half when he found Josh Miloch for a 10-yard touchdown pass. Less than a minute later, at the 1:59 mark of the second quarter, Wasielewski scored his third touchdown of the game on a 25-yard scoring catch. Wasielewski's PAT failed, which gave the visitors a 20-7 lead. On the last play of the first half, Wellington kicker Matt Palma attempted to cut into the Royal Palm Beach lead with a 40-yard field goal, but a bad snap prevented Palma from attempting the kick.
While the third quarter was scoreless, on the first play of the fourth quarter, Wellington's Reece Larson hauled in a 41-yard touchdown pass from Anthony. Palma's successful PAT made it a 20-14 game in favor of Royal Palm Beach. Another key third-down conversion took place with 9:31 left in the game. Facing a third-and-eight, Wildcats wideout Tahir Powell scored Royal Palm Beach's fourth and final touchdown of the game when he caught a tipped pass, which he turned into a 78-yard sprint-and-score. Wellington closed out the scoring when Reece Lawson scored on a 5-yard touchdown pass from Anthony with 4:05 left in the game.
Wellington's defense held Royal Palm Beach to 20 yards rushing on 14 attempts. Wellington's Miloch was the game's leading rusher with 80 yards on 15 carries. Anthony completed 12 passes for 220 yards in the game. For Royal Palm Beach, Powell caught three passes for 111 yards and a touchdown.
At the start of the game, there was a ceremonial coin toss to celebrate the re-opening of Wolverine Stadium. The ceremonial coin toss included Palm Beach County School Superintendent Dr. Donald Fennoy, game referee Travelle Northern, Royal Palm Beach team captain Payton Mainolfi and Wellington team captain Denali Smith.
Royal Palm Beach is now 1-0 while Wellington's record stands at 0-1. Royal Palm Beach's next game is Saturday, Nov. 7 at 7 p.m. against Glades Central High School. The Wolverines play on Friday, Nov. 6 at 6 p.m. against Pahokee High School. Both games will be played at Wolverine Stadium.