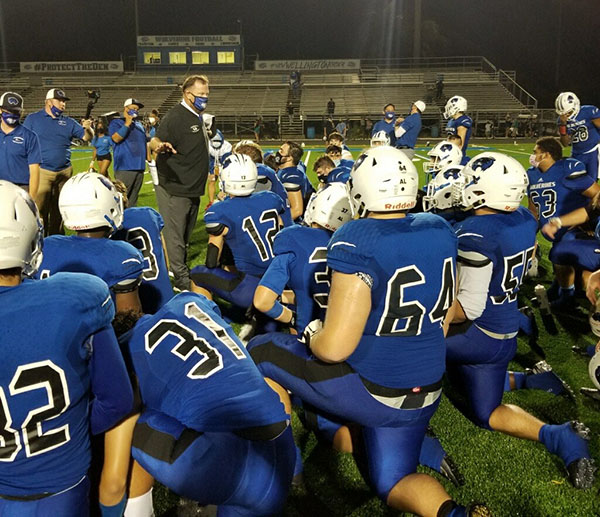 Wellington High School quarterback Ryan Anthony completed 15 of 22 passes for 250 yards and three touchdowns to lead the Wolverines to a 26-13 victory over the Santaluces High School Chiefs on Friday, Nov. 13 at Wolverines Stadium.
Wellington receiver Reece Larson caught two of those touchdown passes, while Wellington's defense did its part by forcing four turnovers — grabbing three interceptions and recovering a fumble.
"Our offense played well tonight, and we eliminated our mistakes," Wellington head coach Tom Abel said. "Our defense played very well tonight. Our quarterback Ryan Anthony is a big X-factor for us."
Both Wellington and Santaluces scored touchdowns on their first two drives, which left the game tied 13-13 with 4:45 left in the first half. The Wolverines then scored on their third drive, when Anthony found Larson on a 14-yard touchdown pass with 1:04 left in the second quarter. Wellington led 19-13 at the halftime break.
In the second half, Wellington's defense started dominating the game. Santaluces' first five second-half possessions were halted by three interceptions, a fumble and a punt. On the Chiefs' last drive, they ran out of time as the game clock expired.
The Wolverines scored their lone second-half touchdown with 9:49 left in the game when Anthony found Larson on a 46-yard scoring strike and Larson sprinted down the left sideline.
Wellington's opening drive was a dominant display of ball control. After misplaying the opening kickoff and nearly getting tackled for a safety, Wellington started the opening drive at its own one-yard line. The Wolverines marched 99 yards in 15 plays to take the lead. The scoring drive, which was scored with 2:50 left in the first quarter, was capped by a 14-yard touchdown pass from Anthony to Lucas Ligouri. Ligouri's reception took place after the passed ball deflected off the hands of Larson, the initial intended receiver.
Santaluces running back Taenard Boyd led the Chiefs with 113 yards rushing. He also scored his team's second touchdown on a 15-yard first-quarter pass from quarterback Thurlynne Benniefield.
Wellington and Santaluces ended the game with identical 1-2 records.
In other local football action, Seminole Ridge High School shutout rival Royal Palm Beach High School 38-0 in a game played Saturday, Nov. 14 at the Wellington High School field.
Meanwhile, Palm Beach Central High School's season came to an abrupt halt after several team members and coaches developed COVID-19. The school district announced the cancellation of the Bronco football season on Friday, Nov. 13.