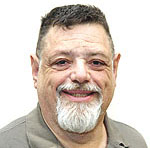 'I' ON CULTURE
This is the last column of 2020. The next one is out on the first day of 2021 and, frankly, I will be glad to be finished with this year. Who would have believed what a mess we're been living through?
There have been some gains. In those first few weeks, essentially speaking to no one in person except my wife, I gained a greater appreciation for her and all she puts up with having to live with me. We wound up cooking more; after all, many restaurants were closed. And I have to thank the staff at my local Publix. They opened early for seniors, were always polite and friendly even early in the morning, and provided paper products whenever available as we came in.
We lost some restaurants, but our favorite local, Bimini Twist on Okeechobee Blvd., started doing takeout as soon as it was possible and tossed in some bottles of pretty good wine to sweeten the deal. And the food was great… as usual. A new Mexican restaurant, Papichulo, opened on State Road 7 and is wonderful. I even found Dough Dough Donuts in the Crossroads Center at Royal Palm Beach and Okeechobee — not only great fresh donuts, but the best hot dogs I have ever eaten. Try them!
Of course, we have taken losses. Friends have died. I lost my precious niece Carla up in New York. People have had their plans so disrupted that we wind up out of touch.
Even worse, we have lost some of our freedom. Yes, I wear a mask whenever I go out and expect to meet people. I even carry one in my pocket when I take my Lexi out to walk her because I might meet people. I do not like wearing a mask; it is hard to breathe and my glasses never sit quite right. But I do like the idea of not passing away suddenly or helping spread the virus, so I wear it.
I also enjoy the folly of those people who are surprised that there are some who ignore the rules. Why should we be surprised? We live in a country where stop signs and blinker lights are considered advisories at best. No one has a problem much with going at a green light, except for those people who are looking at the screens of their phones and/or texting. Red lights stop most of us, but not all. And yellow lights mean step on the gas, hoping that you'll beat the red but not worrying too much. We are and always have been a nation of individualists, even in crises.
Of course, one of the problems going along with this is that the people issuing many of the rules pay no attention to them in their own lives. The mayor of Chicago, after closing down beauty salons, had her own hair done. The governor of New York recently warned against having anyone over for Thanksgiving and then had photos of his elderly mother coming to dinner. The list goes on and on. The mayor of Denver took some time to warn residents not to drive to other people's homes over Thanksgiving before getting on an airplane to visit his family in Mississippi. Several California politicians have been photographed eating at outdoor restaurants in between the time they ordered them closed and the time the ruling went into effect.
I have no problem with giving up some rights temporarily in a crisis. Good citizenship demands it. But many of the rules have been arbitrary. It is OK to stand on line (with social distancing) ins a store but not, even with that same social distancing, in a church or synagogue. Social gatherings of more than a handful of people are forbidden but large groups demonstrating for something the people in charge like somehow, according to the so-called experts, does not create a problem.
I would feel far better if a) I was certain that some of the rights curtailed were being done so temporarily, and b) if the people promulgating the rules joined us in following them. We are being told we are all in this together. Why shouldn't our leaders be held to the same standards as the rest of us? Many of our leaders clearly feel they should not be held to a higher standard than the rest of us, but to be considered above all rules.
As George Orwell put it, "All animals are equal, but some animals are more equal than others."