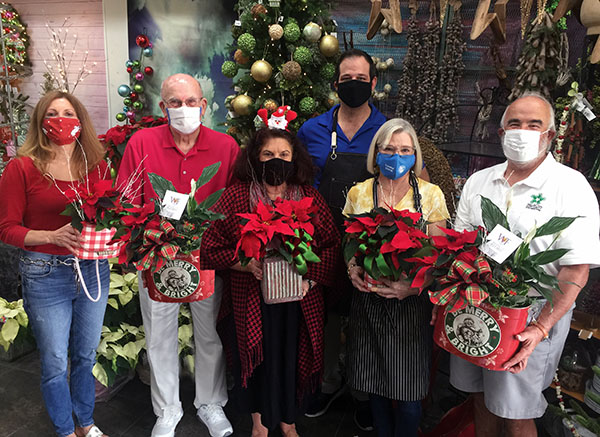 This time of the year, the Wellington Community Foundation goes into overdrive trying to make sure that Wellington children in need receive a special package under their tree to open on Christmas morning.
Teaming up once again with Back to Basics and local elementary school principals to identify students, foundation members went gift shopping starting in November and began wrapping presents that include the basics: underwear, socks, sneakers and an age-appropriate toy for each child on the list.
On Wednesday, Dec. 16, foundation representatives delivered all of the presents for distribution, including to Principal Dana Pallaria at New Horizons Elementary School and Principal Michella Levy at Binks Forest Elementary School. They were elated to once again see the foundation cars pull up with the gift packages. "This year, more than ever, the need is great," Levy said.
The Wellington Community Foundation also partnered with Wellington Cares and Wellington Florist to deliver holiday cheer to well-deserving seniors this holiday season. Poinsettias adorned with holiday décor will be delivered to Wellington Cares participants again this year thanks to the generous support of Wellington Florist.
"It is our pleasure to work with the foundation. We have been so blessed and want to share that with the community, which has been supporting us since 1991," owner J.P. Varvarigos said.
Joining the foundation to receive the beautiful arrangements and coordinate the army of volunteers is Director of Operations Diane Gutman of Wellington Cares. She noted that the seniors look forward to the special attention each year, and it really touches their hearts. Some do not have family and may only receive this gift for the holiday season.
Both of these initiatives were made possible by the generous donations received on behalf of seniors, children and veterans each year by the foundation. The Wellington Community Foundation looks forward to continuing its efforts in 2021 and expanding on existing programs and creating new ones.
To learn more about the programs, volunteering or how to make a donation that directly benefits people in Wellington, visit www.wellingtoncommunityfoundation.org.