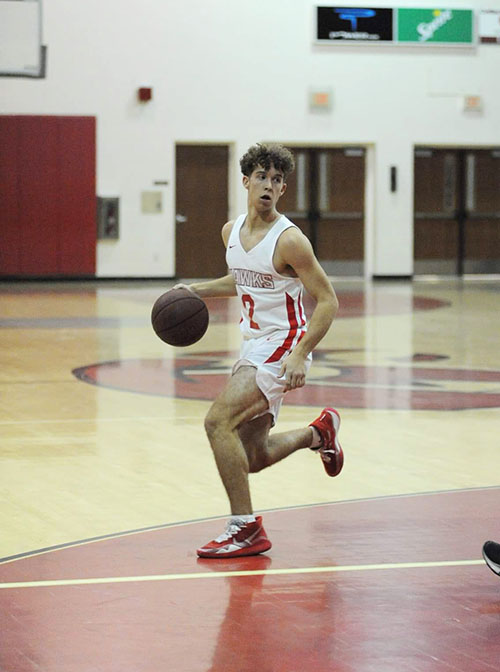 The Seminole Ridge High School varsity boys basketball team had a tough 0-3 start to this year's season, but don't judge a book by its cover. Head coach Leonard Smith sees better days ahead for his squad.
The Hawks opened the season with a pair of close road losses — a 54-48 loss on Dec. 9 against Boynton Beach High School and a 42-37 loss at West Boca Raton High School on Dec. 15. Then, on Dec. 17, the Hawks lost their home opener to Spanish River 53-38.
According to Smith, his team could easily be 2-1, especially if the squad had played better defense. Still, Smith knows that the best days for his players are in the future, perhaps as soon as this month when the season resumes.
"We lost five seniors from last year's team, and four of them were starters," said Smith, who is entering his second year as head coach of the Hawks. "We're young as far as experience is concerned. We are now adding a few players from the football team. And we didn't really start practicing until Nov. 18. Our biggest issue is building team chemistry. That comes with more practice time and getting them to learn how to play together."
The lone returning starter from last year's squad is senior point guard Tylar Cerez. Right now, Cerez's job is to dribble the ball down the court, pass the ball to open teammates, score points when the opportunities present themselves, and grab as many rebounds as possible.
Smith is looking for a few players to step forward to lend a helping hand to Cerez. He is expecting more production from Will Houraney, Josh Badett and Tylar's brother, Dylan Cerez.
Smith expects Houraney to use his 6-foot-4 frame to score points and grab more rebounds.
"Will is a big key for us inside," Smith said. "He grabs around 10 rebounds a game. He's a very good rebounder, but we need points from him."
Smith also has high expectations from both Badett and Dylan Cerez.
"We need more production from Josh," Smith said. "And Dylan needs to pick up the pace."
Smith's coaching philosophy is focused on getting his team to play aggressive defense.
"Defense creates offense," Smith said. "We have many defenses that look the same yet operate differently. My favorite defense is a full-court 1-2-2 press. I like for my teams to apply full-court and half-court pressure. We are always changing defenses in every game."
The Hawks are now focused on getting their first victory of the season when they host Olympic Heights High School (3-0) on Tuesday, Jan. 5. Tip-off is scheduled for 7:30 p.m.