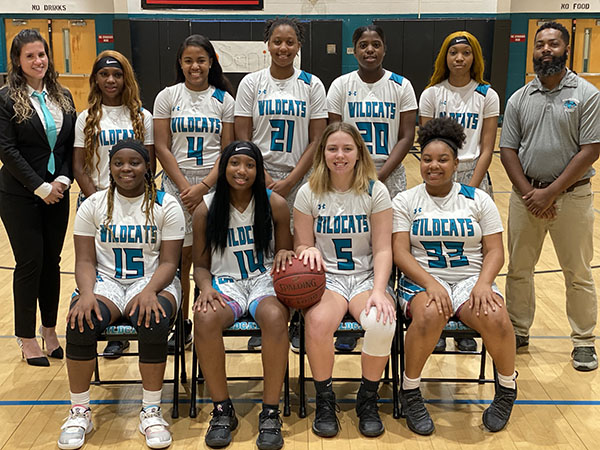 Royal Palm Beach High School varsity girls basketball coach Ivana Soberal has high expectations for her team this year. She understands that the key to the annual success of her program is rooted in her players' ability to grasp and eventually master basketball's fundamental skills, starting with conditioning, how to rebound the ball, and developing skills such as dribbling, passing and catching.
The overall fitness of the team is improving on a daily basis, Soberal said. The team's inability to get in proper shape by the beginning of the season was the result of COVID-19 restrictions on team sports.
"I have high expectations every year, and I'm always teaching my players how to improve," said Soberal, now in her second year as the head coach for the Wildcats. "Everything we do in practice is done with movement. It's either 'catch and move' or 'catch, move and shoot.' These are all game-like skills."
Soberal — who graduated from Atlantic (then, Summit) Christian Academy in West Palm Beach and played collegiately at Warner University, an NAIA school in Lake Wales, Florida — is still young and fit enough to practice what she preaches, as is her assistant coach Willie Richardson.
"That's what I like about being a basketball coach, because I can demonstrate everything that I want my players to do," said Soberal, who also teaches health, personal fitness and team sports at Royal Palm Beach High School.
Soberal has strong words of praise for the work that Richardson is doing as her right-hand man.
"I could not have found a better coach to assist in building the girls' basic fundamentals," Soberal said. "He has taken girls who have never touched a ball and taught them skills to be able to play and compete in a game. His job as the head junior varsity coach is what will truly set up our varsity program and give us more depth. With the varsity program, he complements me well. We have the same mentality of pushing the girls and expecting more from them, and we have different ways of making that happen."
The Wildcats won five of their first eight regular season games and are looking to continue their winning ways in the last few weeks of the regular season. Then, it will be a case of "win or go home" in the local Class 7A, Region 3, District 10 postseason tournament, which starts in early February. If the Wildcats can reach the district tournament final, they will advance into the postseason.
So, between now and the postseason, Soberal will be looking for each player to lend a helping hand to the overall success of the team.
It all starts with senior Kamia Harrell, who has been the starting point guard since she was a sophomore.
"Kamia has great court vision as our point guard," Soberal said. "She prefers to pass rather than take a shot. She's very coachable and is a leader on the court. There are times when I want her to not be so unselfish and actually look to score."
Senior guard Anaia Banks has a scorer's mentality.
"Anaia is a great shooter and is always looking for ways to score," Soberal said. "She is a natural athlete and makes lots of steals."
Samantha Saint-Jean, another senior guard, brings the team to life with her mental approach to the game. She also knows the importance of rebounding the basketball.
"Samantha is our most energetic and talkative player," Soberal said. "She is our top defensive player and knows how to box out in order to get rebounds."
Re'mya Flowers, a junior forward, leads by example.
"Re'mya is our hardest worker in practice and in games," Soberal said. "She is also a great free throw shooter and rebounder."
Senior forward Lily Lanier is a volleyball player who Soberal was able to convince to try basketball as well. Her story is bittersweet. Lanier joined the team as a junior, but an injury is keeping her off the court right now.
"In the last 12 months, Lily is our most improved player, but she is sidelined for the rest of the season because of a torn ACL," Soberal said. "Despite the injury, she attends every practice and every game."
As a way to honor Lanier's commitment to the team, Soberal made sure Lily dressed for the senior night game against Boynton Beach High School on Monday, Jan. 11, which the team won. Lanier was in the starting lineup but was substituted out of the game immediately after the opening tip-off to avoid further injury.
Juaensha Theodore goes by the nickname "Jo Jo."
"Juaensha is a sophomore who is new to the varsity squad," Soberal said. "She is growing as a player and is learning the basics of basketball."
Amariyah Edwards is the only freshman on the squad. She has a bright basketball future.
"Amariyah is quick. She has a great attitude, and she is really coachable," Soberal said. "She's a great addition to the team."
Junior guard Taryin Carter is on the varsity squad for the first time this year.
"Taryin is a true team player and is learning what it takes to play varsity basketball," Soberal said. "She's developing into a good shooter."
Sophomore guard Briana Civil may well be next year's starting point guard.
"Briana is a good ball handler and has great court vision," Soberal said. "She's getting better every day."
Sophomore forward Mariyah Mathieu is on the varsity squad for the second straight year. She's a solid all-around player who stands 5-foot-8.
"Mariyah can shoot, rebound and dribble," Soberal said. "She's a lefty, which gives us a different look. She's not an easy player to guard."
At 5-foot-11, Tori Carter is one of the tallest players on the team — and uses her height to her advantage.
"Tori is a strong rebounder who is good at put-backs for points," Soberal said. "She is also getting better about making shots from the short corner."
If the RPBHS varsity girls basketball squad can get themselves in top shape by season's end, they have a chance of meeting or exceeding their coach's high expectations with a deep run in the postseason.