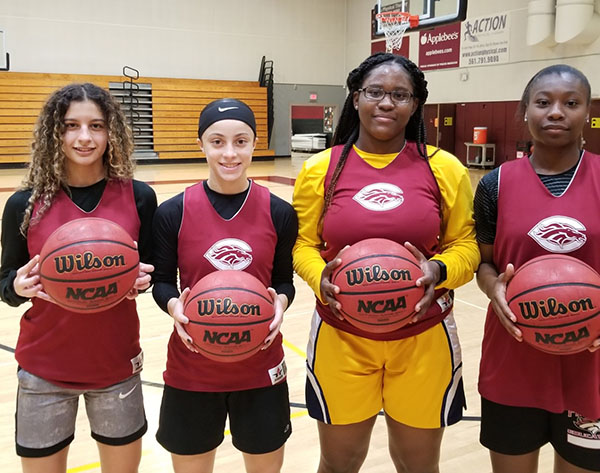 Teamwork will make the dream work. It may be a cliché, but that's what is necessary for the Palm Beach Central High School varsity girls basketball team to achieve its dream of finishing the regular season on a high note and then making a deep run in the state playoffs.
According to Palm Beach Central head coach Bruce Gaffney, his team did not have a dreamlike start to the season. The Broncos struggled to a 4-4 record after the first eight games. But there's time for Gaffney and his assistant coach Charles Howell to get their players better at scoring, passing, rebounding, stealing and playing defense.
There are just a few weeks remaining in the regular season before the squad begins play in the Class 7A, Region 3, District 10 postseason district tournament. Gaffney's district tournament goal is for his team to reach the championship game, thereby guaranteeing a spot in the Class 7A state tournament, which will begin with regional play on Feb. 16.
Gaffney, now in his 15th year as the head coach at Palm Beach Central, has 10 players on his roster, and each player has something positive to add to the success of the team.
The Broncos' top player is sophomore point guard E'Zaria Adams, who is one of four co-captains on the team.
"E'Zaria has a strong work ethic and has a high basketball IQ," Gaffney said. "She is our leading scorer and has had games where she has scored 26, 21, 19 and 17 points."
Guard Melanie Grabarsky, a transfer from Trinity Christian in Lake Worth, is a senior co-captain. This is her first year with the Broncos. Gaffney likes the passion that she brings to the game.
"Melanie is a high-energy player who gets lots of steals," Gaffney said. "She is often the first player down the court on the fast break."
Freshman guard Gracie Powell is one of the team's better perimeter scorers.
"Gracie is one of our top three-point shooters," Gaffney said. "She is also great at pressing on defense."
Senior co-captain Gabrielle Powell, Gracie's older sister, is a four-year player for the Broncos. The 5-foot-4 guard has special qualities that you can't teach, according to Gaffney.
"Gabrielle brings leadership to the team," Gaffney said. "She also has great energy — in games, during practice, in the locker room and on the bench."
Sophomore Deborah Jean is the fourth co-captain. She is the team's top power forward. Her biggest basketball attribute is her strength.
"Deborah is a strong rebounder and runs the floor very well," Gaffney said.
Freshman Tamia Coleman uses her 6-foot-2 frame to dominate the area around the basket.
"Tamia rebounds, blocks shots and has a strong presence down low near the backboard," Gaffney said. "She is a hard worker with big potential. She also has a nice shot."
Sophomore Brianna Jeanniton is new to the Bronco basketball program. She transferred this year from Santaluces High School in Lantana.
"Brianna can jump well, which makes her a good rebounder and shot blocker," Gaffney said.
Senior Kyss Benoit has two qualities which you cannot coach — she is tall and athletic.
"Kyss is fast and quick," Gaffney said. "It's great to have a 6-foot-2 player as a key reserve off the bench."
Senior Chastity Lockhart also provides much-needed depth for the team. "Chastity is excellent at ball handling," Gaffney said. "She is a physically tough player."
Junior guard Anna Luengas is new to the varsity team this year. She played on the junior varsity team last year as a sophomore.
"Anna worked hard on her game in the off-season," Gaffney said. "She has a great attitude."
The key to the team's success will be the ability to play a variety of defenses and keep physically moving on offense.
"On defense, we like to play a matchup zone, which keeps our taller players in the paint and our quick guards on the perimeter," Gaffney said. "When we talk and move well on defense, our defense is strong. We also like to play a 2-2-1 and a 1-2-1-1 zone defense."
On offense, it's important that the Broncos emphasize body movement and ball movement, especially in the half-court offense.
"In our half-court offense, we try to keep it simple by emphasizing smart passing and cutting to the basket, with an emphasis on ball-side and face-side cuts," Gaffney said. "Of course, we try to get out on the fast break as often as we can."
Gaffney, who led the team to the Florida state high school final four in Lakeland in 2012, is rather philosophical about the game.
"Basically, basketball is a game where we need stops on defense and buckets on offense," he said.
That's teamwork. And when you achieve teamwork, the dream will work.