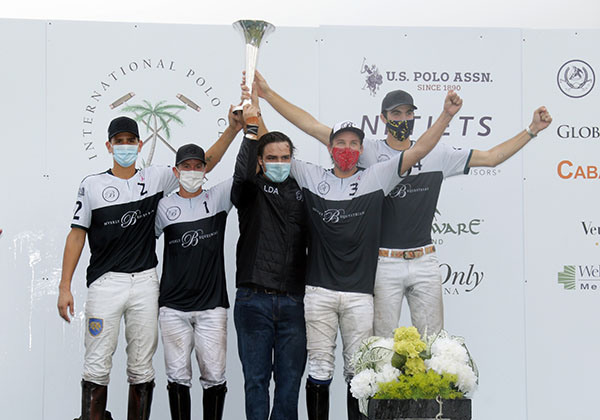 Coming up just shy of the trophy in the Joe Barry Memorial Cup final, Beverly Polo shook off the loss and regrouped for the Ylvisaker Cup with an unexpected change to their roster.
Finding themselves in the mini semifinal fighting to stay in the tournament, Beverly Polo — Bill Ballhaus, Jorge "Tolito" Ocampo Fernandez Jr., Hilario Figueras and Peke Gonzalez — performed at the top of their game, once again earning a finalist position opposite Palm Beach Equine — Costi Caset, Robi Bilbao, Gringo Colombres and Scott Swerdlin.
Played on Sunday, Feb. 7, on the U.S. Polo Assn. Field 1 at the International Polo Club Palm Beach in Wellington, the Ylvisaker Cup final was a fast-paced offensive battle waged beneath overcast skies, this time featuring Joaquin Panelo as a substitute for Gonzalez. Leading throughout the game with unstoppable determination, Beverly Polo claimed the title 15-11 just before a sudden downpour.
"To play at this level it takes tremendous focus, organization and discipline. You can't just show up and decide that you want to play in 18-goal tournaments," team owner Bill Ballhaus said. "This is something that we've been preparing to do for years and just systematically building our strings, ourselves as players, the team, and the way we play together."
Starting off with a two-goal advantage on handicap, the 16-goal Beverly Polo team was prepared to challenge their strong opponents for the fourth time this season. Leaving the ball and taking out Figueras, Colombres set up Caset to score the first of many goals in an attempt to catch up with Beverly Polo. Briefly overtaking the lead in the second chukker, Caset powered through the field to add consecutive goals to the tally, but Panelo's accurate shooting rapidly restored the difference.
Set up near goal by a long hit from his teammate, Ocampo Jr. scored a pair of goals and Beverly Polo remained on top 6-5 heading into the third. "We gave everything, and we fought for every single goal," Ocampo Jr. said. "There wasn't a chukker that we lost because each player gave everything for the team."
Demonstrating their skill from the penalty line, both teams took turns capitalizing on crucial opportunities in the third chukker. Figueras and Caset both picked up a Penalty 2 and 3. Winning yet another throw-in and charging to goal on Best Playing Pony One Juliana, Ocampo Jr. helped to extend Beverly Polo's advantage to 10-7 at halftime.
Building on their momentum in the second half, Beverly Polo continued to focus on the target, shutting down all opportunities for Palm Beach Equine to score in the fourth chukker. Delivering on another Penalty 3, Figueras was followed up by an impressive run and goal from Panelo, who stayed just out of Bilbao's reach.
Retaliating in the fifth and eager to get back on the board, Caset's offensive drive kept Palm Beach Equine in the game. Guarding the ball away from Ocampo Jr., Caset chipped away at the deficit with two quick goals, but Beverly Polo held firm at 12-9 moving into the final chukker. Perfect from the penalty line this tournament, Figueras traded goals with Colombres as the minutes rapidly ran out for Palm Beach Equine to mount a comeback. Scoring the final goal for Beverly Polo and landing all team members on the scoreboard, Ballhaus knocked in a tailshot to seal the long-awaited victory 15-11.
Playing for the first time in the 18-goal season, Beverly Polo's accomplishment is even more impressive as the only 16-goal team in the tournament.
"This is the biggest tournament that we've won at Beverly Polo, and it was an amazing way for us to cap off our first 18-goal season," Ballhaus said. "This is something that we've been building toward for several years now."
A victory years in the making, Beverly Polo has put in the work over time and gradually looked to raise their level of play in the high-goal scene.
"Hilario [Figueras], Tolito [Fernandez Ocampo Jr.] and myself have been playing together in 8-goal polo with my son and playing 12-goal polo in Wellington for years," Ballhaus continued. "This year, we wanted to step up to the 18-goal level and put together a team that we were hoping would be competitive. As time went on, and we started refining our system, we found ourselves playing better and being more competitive."
Although having to adapt to a changing roster, Beverly Polo found the changes to be smoother than anticipated. "We decided to bring in Joaquin [Panelo] only two days ago," Ocampo Jr. said. "He had an advantage because he had played Lucas [Diaz Alberdi]'s horses already in New York. Then we had a team meeting and watched our games when we played against Palm Beach Equine and Tamera, and Joaquin sorted it out really quickly."
Responsible for five of Beverly Polo's total goals, Figueras was named Most Valuable Player.
"This is the first time we've won on the U.S. Polo Assn. Field 1, so it's incredible," Figueras said. "All of our horses are in good shape and they played really well today. I think playing one more game definitely helped us because we were sharp."
Best Playing Pony honors were awarded to six-year-old dark chestnut mare One Juliana. Owned by Ocampo Jr., One Juliana was played as a spare for two minutes in the second, third, fourth and sixth chukkers.
"One Juliana is a horse that I got from my father-in-law," Ocampo Jr. said. "One Juliana is a big, strong horse. She can run and she never gets tired. She's a big horse, but you feel that you're playing with a 51 mallet."
Ballhaus received the Sportsmanship Award.
"It has been fun to see how we've refined our system over time," Ballhaus said. "This was a tricky tournament because we had to integrate multiple players, but we stayed committed to our system and way of playing. We're just focused on progressing, and we'll use what we've learned to prepare ourselves for next year and the years to come."
The Gauntlet of Polo season is now getting underway at the International Polo Club Palm Beach. Visit www.internationalpoloclub.com to learn more.