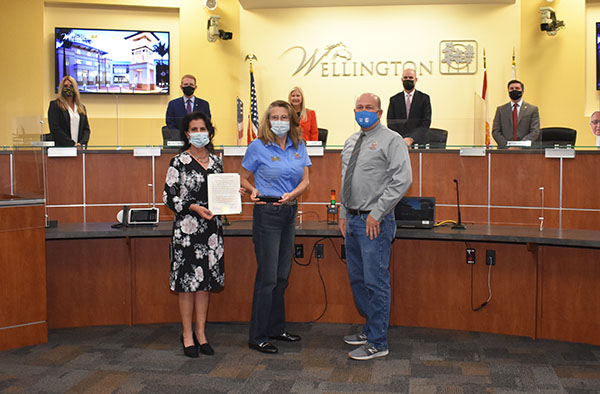 Representatives from the Town of Loxahatchee Groves visited the Wellington Village Council meeting on Tuesday, Feb. 9 with a proclamation honoring Wellington on the 25th anniversary of its incorporation.
The proclamation commends the neighboring village on its incorporation of property purchased in 1951 by Charles Oliver Wellington that would become his namesake village. The State of Florida created the Acme Drainage District in 1953 to improve the drainage in the area, which later became the Acme Improvement District, and the Village of Wellington in 1996 after a referendum in 1995.
The proclamation noted that the Village of Wellington has relied on the leadership of dedicated citizen committees and has developed award-winning parks and recreation facilities and programs. It was built on achieving a balance between economic growth and remaining true to its family-oriented values.
Renowned for its top-rated education system, premier parks and recreation programs, the proclamation further noted that Wellington is listed among the top 100 places to live in the U.S., and the village provides exemplary public services that contribute to an outstanding quality of life to the area known as the "Winter Equestrian Capital of the World" for the diverse equestrian disciplines it hosts.
"Now, therefore, be it proclaimed by the Town of Loxahatchee Groves, Florida, that it commends the Village of Wellington for the 25th year of incorporation as the Village of Wellington," read the proclamation, which was presented by Loxahatchee Groves Mayor Lisa El-Ramey, Councilwoman Laura Danowski and Councilman Robert Shorr to the Wellington Village Council.