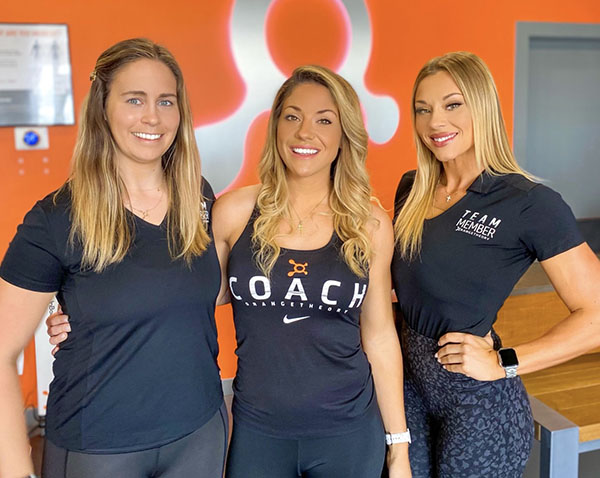 If you're looking to get into shape, check out the Royal Palm Beach location of Orangetheory Fitness, located in the Southern Palm Crossing shopping plaza on Southern Blvd.
Co-owned by Patti Braswell and her husband Steve Braswell, Orangetheory Fitness Royal Palm Beach focuses Orangetheory's signature heart-rate-based exercise routine.
Each session is an hour-long, High Intensity Interval Training (HIIT) class focused on keeping your heart rate at the optimum level for best results.
During the heart-rate-based HIIT workouts, coaches guide clients through five different heartrate zones: resting, easy, challenging, uncomfortable and "all out," telling you when to push harder and when to pull back for recovery, according to an explanation on the company's web site. The goal is to spend 12 minutes or more with your heart rate elevated into the "Orange Zone" to boost your metabolism, burn fat and burn more calories.
If that sounds difficult, Braswell wants people to know that her coaches work closely with you to ensure you begin at your appropriate level. And because of the heart rate monitors, people from all fitness backgrounds can work out in the same class, at their level, and still see results.
"You can be an elite athlete, and I might not be at your level," Braswell said. "But I still feel good about being there and working out next to you."
Manager and trainer Christine Moore further explained that while each member in the class is doing the same activity to achieve roughly the same heart rate level, the intensity at which each individual works is varied.
"If you have Usain Bolt next to you, he may be running at a 10-mile-per-hour speed, and then you may be running at maybe a six-mile-per-hour speed, but your heart rate responses should be very similar, because both of your heart rate maxes are very different," Moore said. "So, you're actually shooting for the same goal, it's just the level of intensity at which you can work is going to be different from person to person."
Orangetheory also has options for those clients who are injured but still want to get — or stay — in shape. Each potential customer meets with a trainer to discuss their individual situation, and any workout routine that will worsen a particular injury can be swapped with a different, but equally beneficial, activity.
Braswell emphasized that Orangetheory is for every person of every background, and nobody should feel afraid to give it a shot.
"If people think they need to lose 10 pounds to come into the gym to look a certain type of way, we're not that type of gym at all," she said. "We welcome all people from all sizes and all walks of life."
Moore agreed that they strive to provide a comfortable and welcoming environment for all members.
"One of the main focuses is just making sure that every member that steps inside of our studio feels amazing every time they come in and every time they leave," Moore said. "It's someplace where they can feel safe, and they can have a good time, and they can get the results that they're looking for."
Moore explained that such a community-based environment encourages a healthy mindset and a continued desire to commit to their workout.
"People don't necessarily remember the words that you spoke to them, but they remember the feeling," Moore said. "So, when they come in, if they have a really warm, friendly, welcoming environment, they're going to feel a certain way when they come in here… It all starts from before they even enter the door."
Moore said she has seen clients form not just physiques, but friendships from working out together at Orangetheory.
"I've seen a ton of friendships built within the studio, within classes in general, because you're working out with a lot of the same people, and then you start to build a community," she said. "It helps hold you accountable."
Braswell agreed. "I've made some very, very good friends along the way that mean a lot to me," she said. "It's really cool in that way."
Like most of the fitness industry, Royal Palm Beach's Orangetheory Fitness was hit hard by last year's COVID-19 shutdowns. While it is far from business as usual, things are looking up, and Braswell stressed that her facility puts a heavy focus on cleanliness and safety.
Clients can rest assured that when they step into her Orangetheory location, the only thing at risk is their body fat. According to Braswell, her team is working hard to ensure that the Royal Palm Beach location — the second Orangetheory Fitness studio to open worldwide — follows CDC guidelines, and then some.
Along with an air filtration system, Braswell said, the equipment is also cleaned between every class, and an environmental company comes in to fog the entire studio on a scheduled basis.
Orangetheory Fitness Royal Palm Beach is located at 11021 Southern Blvd., Suite 130. For more information, call the studio at (561) 753-8111. Learn more about how Orangetheory Fitness works at www.orangetheory.com.