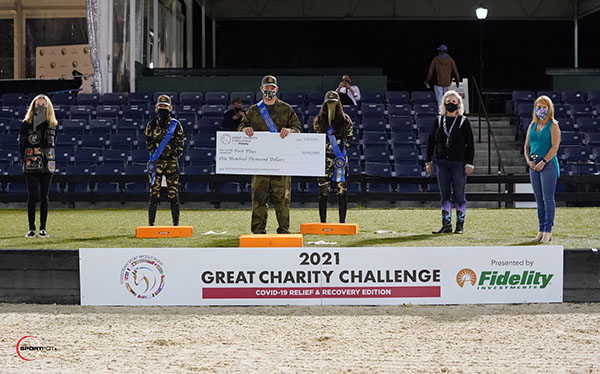 For 46 Palm Beach County charities, the feeling of hope shifted into reality on Saturday, Feb. 6, at the Palm Beach International Equestrian Center. What is usually the biggest night of the 12-week Winter Equestrian Festival, the Great Charity Challenge, presented by Fidelity Investments, pivoted to a blend of in-person competition for riders and virtual celebrations for charities and supporters. Those supporters cheered as equestrians and their mounts, representing local nonprofit organizations, competed for a share of more than $1 million in prize money.
Determined to show the power of united communities, the GCC is an exciting show jumping event that combines equestrian sports and philanthropy, bringing hope to Palm Beach County charities every year. Three riders made up each of the 23 pro-am combinations, which are paired with randomly selected Palm Beach County charities. Each team was made up of junior and amateur riders competing side-by-side with top professionals, including Olympians.
In addition to the 23 charities that were part of the GCC competition, an additional 24 nonprofits received funding through grants that were awarded leading up to the event.
"Seeing the level of need in our community and knowing how difficult the past year has been, we quickly realized that we couldn't turn our backs on our most vulnerable neighbors," GCC co-founder Mark Bellissimo said. "We are truly grateful to see that the community was able to adapt to this format while stepping up to provide crucial funding to local organizations."
A moment of silence at the beginning of the event paid recognition to all of those lost to the pandemic over the past year.
Following a year of uncertainties and challenges, the GCC featured riders dressed up in costumes and horses adorned to match them, paying recognition to the many heroes who stepped up during the pandemic, as well as those who have inspired people to push beyond their own limits and "dream bigger."
The winning team of riders — Lindsey Tomeu riding Bonapart, Ashley Vogel on Lucy in the Sky and Shane Sweetnam aboard Heart on Fire — sponsored by team sponsor Spy Coast and Preston, and corporate sponsor Diamante Dressage, came in the ring representing the United States Army as their heroes and finished with a time of 91.664 seconds. Their strategy and teamwork paid off for their assigned charity, the YWCA of Palm Beach County, earning them the top prize of $100,000. The sliding scale for the balance of the proceeds, down to 22nd place winning a minimum of $15,000, ensured that everyone was a winner.
Team sponsor Spy Coast and Preston has been involved with the Great Charity Challenge since its first year in 2010.
"I've been supporting [the GCC] since its inception," Lisa Lourie of Spy Coast Farm said. "I've been fortunate enough to win four times thanks to an incredible team. Shane is one of the top Grand Prix riders here at this show, and he still participates every single year. I think he might be passing on the baton next year, but that doesn't mean we won't have an incredible team. He trains these kids and brings them along to be like him, so that's really terrific."
Lourie was happy to be paired with the YWCA. "We're very thrilled that we pulled the YWCA, especially thrilled about the causes they're directing their money toward," she said. "Both Monica [Preston] and I are all for empowering women, certainly for racial equality and helping children, so we're thrilled to do it and we're honored and privileged to be able to do it in this way."
Shay Spencer, executive director of YWCA of Palm Beach County, was elated by the result.
"We have been live streaming all night, and we are so thankful to the sponsors, the supporters, the riders, everyone who livestreamed, and especially to the GCC for putting this all together. We have been supporters, and it is amazing to now be award recipients," Spencer said. "We do have some very specific plans for the $100,000. We have an amazing new initiative called the Women's Health Institute, which helps to target the disparities that women face in the health industry, being both women and women of color. We have our child development center, which helps to provide free, quality child care for low-income families. We are going to use the funds to continue our mission, to empower women, to eliminate racism, and to promote peace, freedom and justice for all."
Sweetnam is glad that the GCC continued, even in the face of the pandemic.
"Every year it's a great event, and it's a great cause for the community, especially this year," he said. "I know it probably wasn't easy to organize, but these charities need it more than ever this year. It's great that we could do our part and have something to cheer for and give back to our community."
Coming in second place was the team for Junior Achievement of the Palm Beaches, sponsored by Lothlorien Farm and corporate sponsor La Victoria Farm. The team consisted of Edie Wetzel riding Annabelle, Charlotte McLaughlin aboard Elmo and Daniel Coyle on Essedon, who were just a single second shy of the win in 92.869 seconds, earning $90,000 for their charity.
The Center for Family Services of Palm Beach County finished third and won $80,000 with a time of 92.756 seconds. The team was made up of Keira Foster on Ash Ville Rock, Olivia Markman riding Zanta Fee Van T Hofterrijckel and Zayna Rizvi aboard Chaplin W, sponsored by Peacock Ridge and corporate sponsor Rosner's Appliances.
"Fidelity Investments is committed to making a difference in the communities where we work and live, and we were proud to be the presenting sponsor of the Winter Equestrian Festival and the 12th edition of the Great Charity Challenge. This important event distributed more than $1 million to more than 40 charities in the Palm Beach community, which will help assist populations most impacted by the COVID-19 pandemic," said Dave Cvercko, regional head of Fidelity's south-central investor centers.
In the spirit of collaboration during these challenging times, United Way of Palm Beach County joined forces with the Great Charity Challenge, enabling spectators near and far to donate to the event online for the first time.
"While this year's event looked very different than our usual full stands, our focus remained the same: to ensure that local nonprofit heroes receive a financial 'leg up' during these challenging times," GCC co-founder Paige Bellissimo said. "We are so grateful for the support and generosity of the event sponsors and donors who make this possible."
With a focus on community impact, the event also teamed up with the Equestrian Cooperative, an initiative founded by Adrienne Sternlicht, Lucy Deslauriers, Paige Bellissimo and Tori Repole, aimed at making social activism and community involvement more accessible to equestrians. Their first mission: to dissolve the medical debt of about 1,200 people in Palm Beach County. In working with RIP Medical Debt, a nonprofit organization that buys medical debt at pennies on the dollar, their $34,000 goal will eradicate approximately $5 million of debt at approximately $1.50 to the penny.
Grant drawings and special initiatives took place leading up to the event's 12th edition. Thanks to the annual support of the Ziegler Family Foundation, five nonprofits were surprised with $10,000 grants. Additionally, thanks to the generosity of elected officials and longtime supporters, the following nonprofits were randomly awarded grants ranging from $1,000 to $5,000: The Alliance of Women Executives, the Faulk Center for Counseling, the Florence Fuller Child Development Centers, Help Our Wounded Foundation, JDRF, Kayla Cares 4 Kids, the Nicholas and Christen Thompson Foundation, Sea Turtle Adventures, Speak up for Kids and Unified Dream.
"We are truly inspired by seeing key players come together to support change in this community," Mark Bellissimo said. "There are many charities within Palm Beach County that work tirelessly to do just that. We are grateful to our amazing donors who give them access to additional funding and riders who donate their time to compete on their behalf. They share one common purpose: empowering local nonprofit organizations to do what they do best."
Over the past 12 years, the GCC has become a highlight of the winter season and has distributed a total of more than $15,928,227.66 to ­­­­276 local nonprofits. More about the competition is available at www.greatcharitychallenge.com.