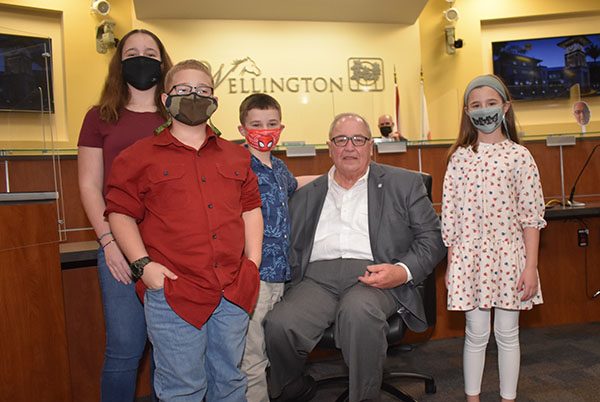 There was a cheerful, celebratory atmosphere at the Tuesday, Feb. 9 meeting of the Wellington Village Council, where the bulk of the time was taken up by offering kudos to Paul Schofield, who recently retired as the village manager.
Council members were joined by village staff, residents, colleagues and community leaders expressing appreciation for Schofield. They praised his years of service to the community and said goodbye after a successful tenure as only the second village manager in Wellington's 25-year history.
A unanimous proclamation recognizing Schofield for his dedication and service began the evening, which was filled with many inside jokes, jocular comments and heartfelt gratitude. A veritable who's who of past and present community leaders, as well as children and grandchildren, expressed well wishes in person and on video.
"I don't think all these people came here to hear approval of the consent agenda," Schofield's protégé and new Village Manager Jim Barnes teased as he asked that the public hearing comments be held at the beginning of the meeting before the actual business of the night, and that guests be allowed to speak as long as they wanted.
Schofield was placed front and center for the evening, although it was acknowledged that during his career, he has always made it a point of managing from the background, making things happen without calling attention to himself.
"Do I need to take notes?" asked Schofield from the front table.
"Never again," Mayor Anne Gerwig responded.
Many speakers came forward and discussed the excellent workings of Wellington under Schofield's leadership. Many also remarked that Schofield handled many challenging situations with integrity, professionalism and a positive attitude. All remarked how they were grateful for his leadership and friendship.
"When I first got elected and met with you, you said, 'You got elected. Now what are you going to do?'" recalled State Rep. Matt Willhite, who served two terms on the Wellington council before making the jump to Tallahassee.
"We've worked very well together," said Willhite, thanking his entire family for sacrificing a lot to allow Schofield to be of service to the community.
Former County Commissioner Jess Santamaria also had high praise for Schofield.
"I have had the good fortune of knowing Paul for some 40 years, but more important, we have been friends during these 40 years. Paul, refresh my memory. I think we were both teenagers when we met," he added to laughter.
Comparing the village to a great ship, Santamaria said that he would choose Schofield as the one with a capable, steady hand to handle the helm.
"What have I learned in those 40 years about this friend of the community is that one of Paul's best assets is leading with a steady hand and his calm demeanor under pressure at all times," Santamaria said.
Gerwig, who really did first meet Schofield when she was barely out of her teens while working as an intern at an engineering firm, said that she didn't think anyone in the room would be nearly as successful without Schofield's good advice.
"Dealing with five leaders is difficult," she said. "It's like herding cats. You have laid the foundation for having great people here."
She recounted a story about how children set the reality of a situation, remarking that she once ran into Schofield's son and grandchild at lunch. When the little one asked who the person was and was told, "That's grandpa's boss," the mouth of the babe immediately responded, "No, grandpa is the boss."
Former Mayor Tom Wenham also has known Schofield for some four decades. Wenham said that Schofield, Barnes and he all worked for Palm Beach County back then. "You are the best thing that could have happened to this community," Wenham said.
Vice Mayor Tanya Siskind recalled Schofield from her days as an education activist.
"During my PTA days, we called you whenever we needed help with [projects]. Knowing that you were the one at the helm of the village gave everybody peace of mind," she said, adding that Schofield has always had the best interest of Wellington in mind, for now and in the future.
Councilman John McGovern thanked Schofield for his decades of getting results for the residents of Wellington.
"Thank you for making us better people, better leaders and for making this a better community for everyone… while staying the same," he said. "We truly are a better community for the fact that you put us on such a sound footing."
Councilman Michael Drahos said that he committed to a second council term because Schofield would also be there.
"You were great at helping me through the challenges," he said. "It's one thing to say that you enjoy working with someone and a whole other to say that you respect them."
Councilman Michael Napoleone said that he always does much better with sarcasm than with sentiment.
"I was trying to figure out why you chose now to retire, and I realized that if you retire during a pandemic, nobody can hug you. But as much as we can't touch you, your fingerprints are on everything," Napoleone said. "Everything that's done in this village has been done under your leadership. You have done more than steering the ship, you had to design the ship, build the ship and you had to do it under budget the whole time."
Barnes listed facts and figures showing the success that occurred during Schofield's helmsmanship. He said that there was one good thing and one bad thing about taking the position of village manager after Schofield. "He has big feet, and that means he has big shoes to fill," Barnes said. "But I'm lucky that he has big shoulders to stand on as we move forward."
When Schofield had his turn, he was as eloquent as he has always been at council meetings. He explained that it takes a great council to make a good manager able to do successful things. Saying that he appreciated all the nice things that everyone said, he recited some statistics on the successful growth of Wellington. Schofield then remarked on the things he won't miss, such as "coming in at 6 a.m. every morning or the 60-hour weeks — but I'm going to miss all the people."