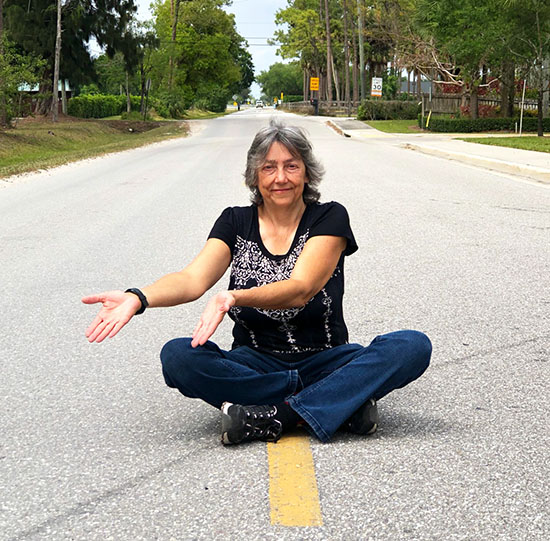 There's a new lineup on the Loxahatchee Groves Town Council, but the core issues dividing the group — road paving, commercial development and private property rights — remain the same, and it didn't take long for those differences to resurface.
At the council's Tuesday, March 16 meeting — the first since the Tuesday, March 9 municipal election — Mayor Lisa El-Ramey departed the dais, but not before issuing a warning to her former colleagues.
"The election was no means a strong statement on the direction of the town," she said. "I hope for the sake of bringing this town and its residents together, council members will review their roles as leaders in the community and conduct themselves accordingly."
El-Ramey, an equestrian professional who already is considering a bid for one of two council positions open in 2022, also questioned the ethics of some sitting council members.
Newly elected Councilwoman Marianne Miles, who defeated El-Ramey by 14 votes, was sworn in and took her seat. Vice Mayor Marge Herzog shifted to the center of the dais to serve as acting mayor. A new mayor will be tapped from among the sitting council members at a future meeting to fill the largely ceremonial position.
Also sworn-in for a new term was Councilwoman Phillis Maniglia, who defeated former Councilman Dave DeMarois in this month's election.
Miles thanked her supporters. "Everyone up here has a voice and a vote," she said.
But over the course of the meeting, Miles expressed frustration that the council was unable to find consensus on a number of issues, especially related to the frequently poor and sometimes dangerous conditions of the town's miles of canal-side dirt roads. "I don't know what to say about adults who act like kids," she said. "I don't know what it is going to take… one more death in our canals?"
As the meeting progressed, Maniglia pressed Town Manager Jamie Titcomb and Town Attorney James Brako to clarify with an eye toward strengthening the town's right to restrict traffic through the community.
Maniglia reiterated her concern that developers owning parcels north of the town might attempt to use C Road as a cut-through to Southern Blvd.
By council consensus, Titcomb and Brako were directed to look into how the town's rights regarding traffic flow could be strengthened — perhaps through an addition to the town's comprehensive plan.
Also by consensus, the council supported Councilman Robert Shorr's request to direct staff to see if it would be possible for the town to cease pursuit of a Palm Beach County Transportation Planning Agency grant for a roundabout on Okeechobee Blvd.
In another road-related issue, the council also agreed to schedule a special meeting on Tuesday, March 30 from 4 to 6 p.m. to discuss the possible closure by the Indian Trail Improvement District of access to 140th Avenue North from 43rd Road North, which serves as the primary access point for the Little Turtle Creek neighborhood.
At a Dec. 1 meeting, the council directed staff to create a temporary interlocal agreement between Loxahatchee Groves and ITID continuing access for the small handful of residents in Little Turtle Creek. That agreement is set to expire soon.
Like Loxahatchee Groves, ITID also is attempting to limit traffic from development in and around the City of Westlake, cracking down on unpermitted connections to 140th Avenue North.
In other business:
• The council heard from a Florida Power & Light representative that the company plans to bury all power lines in Loxahatchee Groves over the next several years. The effort is part of FPL's commitment to bury some 200 miles of power lines throughout the state during that period as part of its Storm Secure Underground Pilot Program. Loxahatchee Groves would be getting a large share of the 16 projects, with 62 miles of underground lines to eventually be laid within the community.
• The council approved a conditional use and site plan amendment for the Groves Medical Plaza at the northeast corner of Southern Blvd. and F Road. The change will allow the 11,000-square-foot second floor of the existing building to be used as office space by J&J Farms. J&J has moved its actual farming operations from the Loxahatchee area to Indian River County but plans to relocate its corporate headquarters from 4003 Seminole Pratt Whitney Road to the building on Southern Blvd., allowing some 40 to 50 skilled employees to remain in the area. The building originally had been zoned for strictly medical use.
• The council approved an enhanced nuisance ordinance that allows staff to determine when a property is in violation of the ordinance and to quickly act, if necessary, to ensure public safety with regard to "the accumulation of trash, junk or debris, living and nonliving plant material upon property, the excessive growth of grass, weeds, brush, branches and other overgrowth, the keeping of fill in an unsafe and unsanitary manner, and permitting vegetation to grow over public roadways."
• The council approved the first reading of an ordinance to restrict the number of recreational vehicles that would be allowed on a property. The new ordinance would specify: "No recreational vehicles will be allowed on parcels less than one acre; one recreational vehicle shall be allowed on parcels consisting of one acre and less than two acres; a maximum of two recreational vehicles shall be allowed on parcels consisting of two acres and less than 10 acres; and no more than four recreational vehicles shall be allowed on parcels consisting of 10 acres or more." A 25-foot setback also would be required from all property lines, and RVs will not be allowed on properties that have adjudicated code violations and unresolved associated penalties.