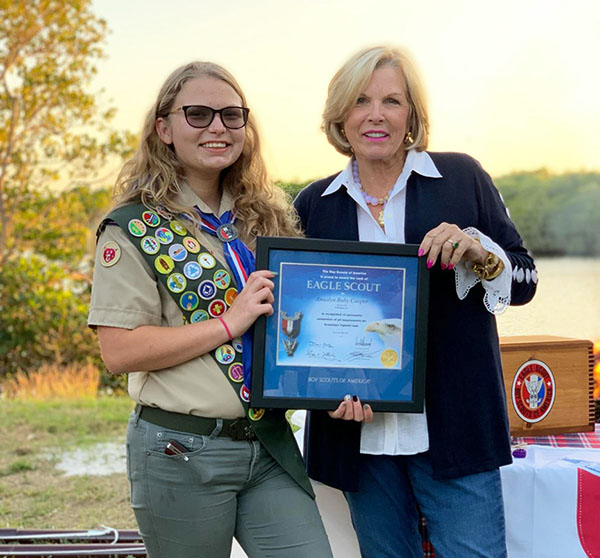 Loxahatchee teen AnnaLyn Cooper made history last December when she became one of the nation's first female Eagle Scouts, a prestigious achievement attained by some of the country's most noteworthy figures.
Cooper is among hundreds of young women who will make up the inaugural class of female Eagle Scouts. She is first female Scouts BSA member to earn the rank of Eagle Scout in the local Gulf Stream Council.
On Sunday, March 21, she was officially awarded the Boy Scouts of America's pinnacle rank of Eagle Scout. At Tanah Keeta, a scout camp nestled on a bend of the Loxahatchee River, Annalyn's family, friends and fellow scouts gathered to celebrate her historic accomplishment.
"I was filled with pride to see our first female in the Gulf Stream Council reach Eagle Scout rank," said Karen Donnelly, president of the Gulf Stream Council. "I followed this young lady's quest from the start and was awed by her determination to reach this prestigious goal. She is an inspiration to many who will surely follow in her footsteps."
Donnelly, who is serving as the council's first female president, presented Cooper with her Eagle Scout Certificate at the ceremony.
Young women have been part of scouting for decades in co-ed programs offered by the Boy Scouts of America (BSA), including Sea Scouts, Venturing, Exploring and STEM Scouts.
The BSA expanded that legacy further in recent years by welcoming girls into Cub Scouts and then into Scouts BSA in February 2019.
"I have had to prove myself to others every step of my scouting journey," Cooper said. "Not only am I among the first females to join a Scouts BSA troop, but as an Eagle Scout, I consider it my responsibility to be a role model to younger girls and uphold the scouting principles."
Eagle Scout is the program's highest rank, which only about 6 percent of Scouts achieve on average. To earn it, an individual has to take on leadership roles within their troop and their community; earn a minimum of 21 merit badges that cover a broad range of topics including first aid and safety, civics, business and the environment; and they must research, organize and complete a large community service project.