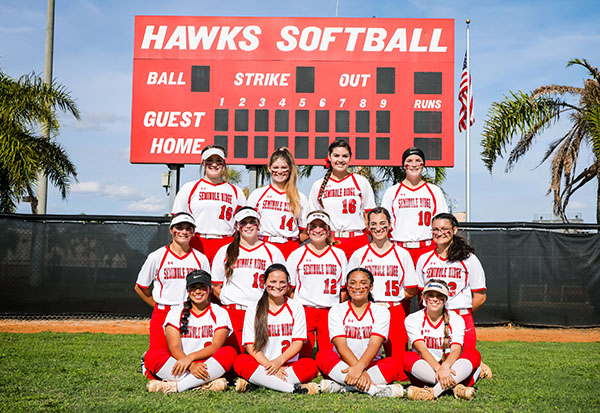 The Seminole Ridge High School girls varsity softball team is doing the little things that are making the difference between winning and losing.
After the Hawks opened the season with a pair of victories and survived a mid-season skid, where they had three losses and a tie, Seminole Ridge (11-5-1) has rebounded with four consecutive victories. The squad's most recent win was a 17-1 triumph against Suncoast High School on Tuesday, April 6.
According to head coach Candace Horton, the key to the success of her young, 13-player squad, which includes four freshmen and four sophomores, has been strong pitching, a rock-solid defense and the willingness by every player to do what the team needs in order to be successful.
Also, every player on the team has a positive attitude, and the entire roster is committed to excellence while playing defense, running the bases and swinging the bat.
"Every player on my team is very coachable," said Horton, who was a catcher in college at Palm Beach Atlantic University. "Because of injuries to members of the team this season, many players are playing a different position. Everybody has been great when I have asked them to do what the team needs."
While every player on the team has contributed in one way or another to the team's overall success this season, Horton said some players have truly led by example, in both practices and games.
In many respects, the team's fortunes are based on the ability of its top pitcher, senior Madi Prickett, to throw more strikes than balls.
"Madi is our go-to pitcher," Horton said. "She is also one of our top hitters, as she usually hits third or fourth in the lineup. If she is not pitching, she plays third or first base."
Prickett will be playing college softball next year for Lynn University in Boca Raton.
Freshman shortstop Grace Rawn is a rock-solid infielder. "Grace is a solid hitter with three home runs this year," Horton said. "She is also fantastic defensively."
Another big contributing freshman is Isabella Martinez. "Isabella plays third and is our backup pitcher," Horton said. "She's a great third baseman."
Senior Jordan Bohn is an invaluable member of the pitcher-catcher battery.
"Jordan is normally a first baseman, but we need her to play catcher this year," Horton said. "We have taught her the basics of the position, and she's playing well. She has a good arm. On offense, Jordan bats fifth."
The heart and soul of the outfield is sophomore centerfielder Autumn Calcagno.
"Autumn is quick, has a great arm and takes charge in the outfield," Horton said. "She's our number-two hitter and moves runners along the bases while batting."
In the closing weeks of the season, Horton is looking forward to seeing how her young team fares against two traditional powerhouse squads in Palm Beach County — at Jupiter High School on April 14 and at Wellington High School on April 15. A strong showing in those games will be an accurate gauge for measuring the strength and ability of this year's team as it prepares for the Class 6A district playoffs, which will start during the week of April 26.
If the Hawks reach the final of their district tournament, then they will earn a berth in the Florida High School Athletic Association's state tournament. After that, it's one game at a time, as only the winners will advance from there.
Now that these young athletes are doing the little things that are making the difference between winning and losing, it will serve the team well down the closing stretch of the regular season and into the post season.