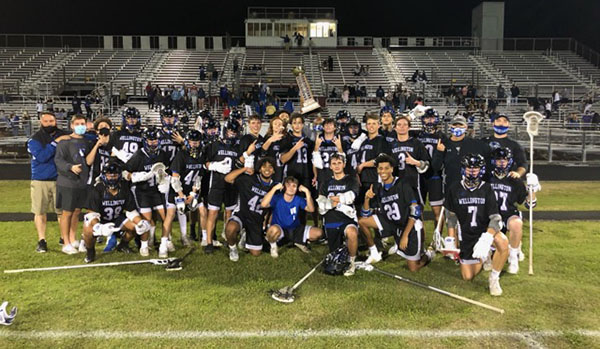 With the boys high school lacrosse regular season in the rearview mirror, it's now all about the postseason. Wellington High School's varsity boys lacrosse team completed a strong regular season, despite losing three weeks of practice and games due to a COVID-19 shutdown, and they finished second to Jupiter High School in the Class 2A district standings. They are now poised and positioned for a surge in the upcoming district lacrosse tournament.
On Tuesday, April 13 at 5 p.m., the Wolverines will face either William T. Dwyer High School or Palm Beach Gardens High School in the district semifinals. The game will be played at Jupiter High School. If Wellington wins, the Wolverines will most likely face longtime lacrosse powerhouse Jupiter two days later on Thursday, April 15 in the Class 2A district final, also at Jupiter High School.
Such a matchup would be a repeat of a March 8 regular season game where Jupiter prevailed, 18-3. But if the two teams meet again, Wellington head coach Johnny Hernandez expects a closer and more competitive game.
"Firstly, our team is better now than back on March 8. We have matured as a team, and the stakes are higher," Hernandez said. "The winner advances into the regionals, and the loser is finished for the season."
Hernandez knows his players want to extend their season for as long as possible.
For the Wolverines, it has been a season filled with big wins, but none bigger than their 10-8 victory against crosstown rival Palm Beach Central High School in the annual Wellington Cup game on March 5.
"We recaptured the Rivals Cup against Palm Beach Central this season, which was canceled last year due to COVID-19," Hernandez said. "What made that victory even better is that our principal, Cara Hayden, was there, and she took our team photo on the field after the game. Our players were impressed to see their principal at our game on the sidelines that night."
As Wellington's boys lacrosse squad prepares for the postseason, the Wolverines will utilize their talent, passion and drive to be the best they can be.
While Hernandez has access to 25 players, he will be looking for exceptional leadership from a handful of players such as Refugio Perez, Gage Olson, Ryan Toohey, Ryan Anthony, Colin Perry, Trevor Giordano, Christopher Castro, Jackson Haynes and Jake Roberts.
According to Hernandez, the team's momentum starts with winning the faceoff at midfield. That's Perez's job, and he does it well. "Refugio is a great faceoff specialist," Hernandez said. "He'll be playing college lacrosse somewhere next year."
Fellow seniors Olson and Toohey complement one another on the field.
"Gage is a skilled lacrosse player, and a tremendous talent," Hernandez said. "Ryan has a big motor with endless amounts of energy."
Anthony, a sophomore, brings his football leadership to the lacrosse field.
"Anthony is the quarterback of the football team here at Wellington," Hernandez said. "He's a great athlete, and he's the 'quarterback' of our lacrosse team. He has great field vision."
Perry, a sophomore, is the heart and soul of Wellington's lacrosse team. "He is relentless on the lacrosse field," Hernandez said. "He has great passion for lacrosse."
Giordano, a senior, is the team's last line of defense. It's not his primary position, but he plays it well. "Giordano's extremely fast hands help him as our goalie," Hernandez said.
Castro, a senior, is an effective defender because of his cerebral approach to the game. "He is the brains of our team," Hernandez said. "He's our smartest player."
Haynes, a senior, is the most physical player on the team. "On defense, Haynes is our muscle and tough guy," Hernandez said. "He sets the tone in every match."
Roberts, a senior, is one of Wellington's most multi-talented players. "Roberts can play in the midfield or on defense," Hernandez said. "He's also a great communicator. He's our most versatile player."
As Hernandez looks back on this season, he has been impressed by the camaraderie and togetherness of the players on his squad.
"They practice and play well together in games," Hernandez said. "They also play well for one another."
The Wellington Wolverines boys lacrosse team understands all aspects of teamwork. It's reflected in their winning record this season. If they can get past Jupiter in the district tournament, their lacrosse journey can continue into May.