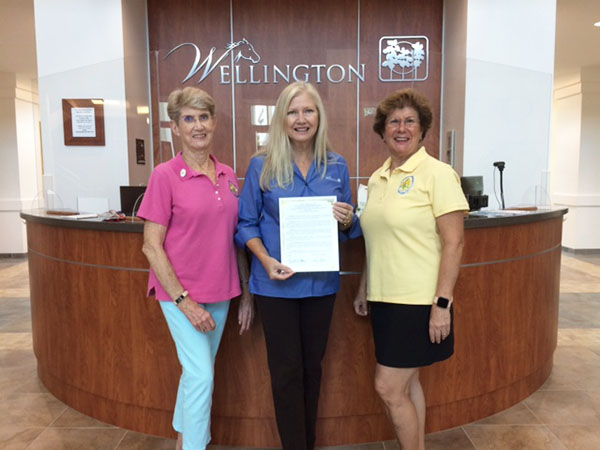 Wellington Mayor Anne Gerwig recently presented a proclamation declaring June 6-12 as National Garden Week. Accepting the proclamation on behalf of Wellington Garden Club were President Maria Wolfe and Twig Morris, National Garden Week chair.
On Monday, June 6, Club members will begin the week by creating and distributing floral arrangements to Wellington's municipal offices, fire departments and hospitals.
On Wednesday, June 9 at 8:30 a.m., members will gather to plant native trees at the Marjorie Stoneman Douglas Environmental Preserve at 3491 Flying Cow Road in Wellington. The trees are being planted in memory of recently deceased members, as well as to honor National Garden Week and Plant America with Trees, two projects of National Garden Clubs, Inc. The public is invited to attend and enjoy a walk through the preserve's nature trails following the tree dedication.
The Wellington Garden Club is a nonprofit organization that has been serving Wellington and the surrounding communities since 1981. Its motto is "Gardening Makes a World of Difference."