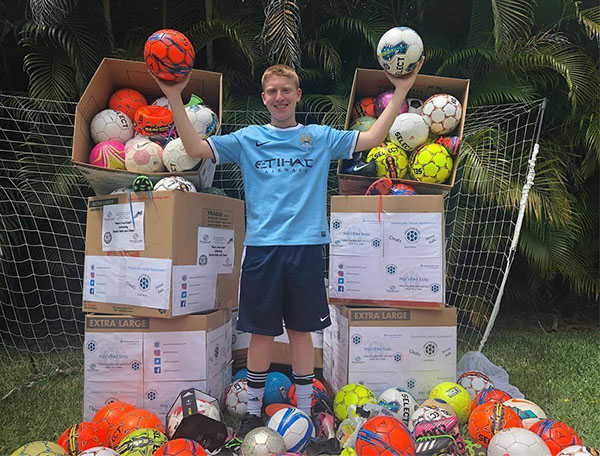 As the school year ends, Alex Schnider, a graduating senior at Wellington High School who went through the Philanthropy Tank program, said the opportunities that the program gave him changed his life and gave him the necessary tools to continue to pursue his dreams.
Philanthropy Tank empowers and inspires the next generation of "changemakers" by challenging and equipping students to implement sustainable service-driven solutions to community problems.
Schnider founded Alex's Free Kicks, a program that collects new and gently used soccer equipment and redistributes it to communities in need. Philanthropy Tank awarded the program funding in 2019. Since then, Alex's Free Kicks has become its own nonprofit organization and collected more than 900 soccer balls and 550 soccer cleats for those in need.
"Philanthropy Tank helped me open my eyes to the opportunities I had available," he said. "Coming into the program, I had a small charity that I ran semi-annually. Leaving Philanthropy Tank, I have a nonprofit organization that is in multiple cities with a proper online presence and several relationships. Philanthropy Tank helped me understand how to truly run a business, and I will take those skills with me for the rest of my life."
Schnider is handing off the operations of Alex's Free Kicks to some friends while he attends the University of Central Florida. He encourages anyone in eighth through 12th grades to apply for the next Philanthropy Tank class. "It was truly one of the most influential decisions of my life to join the program," he said.
The nonprofit organization is currently accepting a new class of young philanthropists to apply at www.philanthropytank.org/apply.
"We congratulate our graduating seniors, knowing that they have only scratched the surface of the impact they will make in the world," Philanthropy Tank CEO Amy Brand said. "Through Philanthropy Tank, we share skills that will help with personal and professional development as students launch their community impact programs. We are inspired by these students and know that the lessons learned from their experience will serve them well as they continue to grow as philanthropic individuals who care about others and their community's ability to thrive and prosper."
The sixth class of Philanthropy Tank Palm Beach County students were recently awarded nearly $70,000 in grant money to support their seven student-led philanthropic programs. To date, Philanthropy Tank has awarded nearly $700,000 in funding to more than 50 projects.