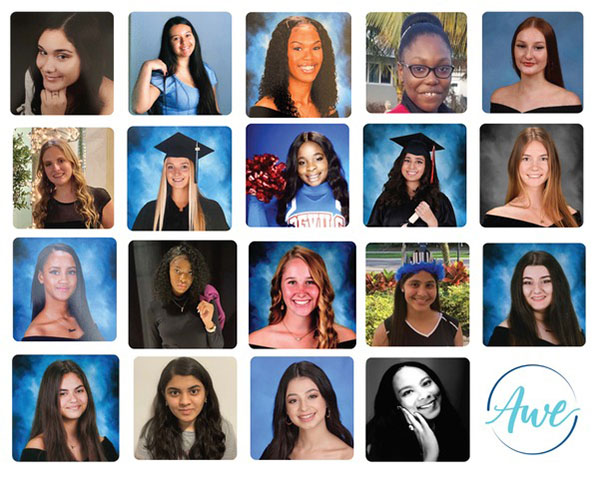 The nonprofit Alliance of Women Executives (AWE) made the college dreams of 19 Palm Beach County young women come true. The organization awarded $28,500 in scholarships to 19 deserving high school graduates at the organization's scholarship awards ceremony held May 18 via Zoom.
These young women come from all walks of life, and with unique stories. A total of seven of the recipients will be attending Palm Beach State College, six will become Florida Atlantic University students, two will attend FAU Honors College and four will enter the FAU BSN Program. In addition, six are the first in their family to attend college, and all are accomplished both academically and in their service to the community. Their aspirations are equally ambitious. They plan to pursue a variety of degrees from nursing, law and medicine to STEM, psychology and the arts.
AWE is a member-based nonprofit founded five years ago by Vicki Tate. With the inclusion of the 2021 awards, a total of 55 scholarships have been granted to Palm Beach County young women.
"The passion of the women who've become AWE members, along with the support of our donors, has been fantastic. AWE's mission is important to Palm Beach County, to these young women and to me. I am deeply grateful to our members and donors. Without them, none of this would be possible," Tate said.
AWE provides a platform to bring like-minded professional women together, sharing knowledge and experiences while making an impact on future generations of young women in Palm Beach County by promoting higher education and making it accessible through academic scholarships. For more information, call (561) 789-8415, e-mail info@aweinc.org or visit www.aweinc.org.