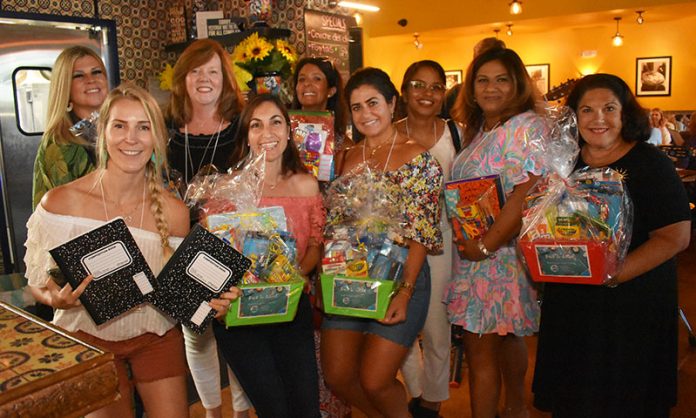 On Tuesday, July 20, the Women of the Wellington Chamber of Commerce, known as WOW, came together for a victory celebration after the group's annual back-to-school endeavor turned into joining forces with the Wellington Community Foundation to deliver 2,500 new backpacks to Wellington students in need for the upcoming school year.
Mole Cantina Mexicana welcomed more than 65 people in attendance, many bringing additional school supplies to ensure that each of the filled backpacks were stuffed. Supplies were collected over the weeks leading up to the event, while several attendees brought supplies to contribute that evening. Dr. Benita De Mirza of It's A Smile World Pediatric Dentistry surprised the group with 10 custom-made school supply baskets.
The Women of the Wellington Chamber committed to donating at least 100 supply bundles to support the joint venture providing 2,500 backpacks to local children.
WOW's event all came together thanks to many sponsors, including Nicola Cervera of Mole Cantina Mexicana as host venue; Kati and Chris Erickson and Stefani Kochanski of Board & Brush Wellington as game sponsor; Donna and Steve Willey of Village Music & Café as music sponsor; Teri and James Sukanec of Big Ink Graphics as sign sponsor; and, of course, all of the Wellington Chamber members who donated supplies.
Women of the Wellington Chamber (WOW) is a collective group of like-minded businesswomen driven to make a difference in the community while supporting one another's businesses through philanthropy and networking events, thereby creating a network of sustainable contacts and resources. WOW's leadership committee includes Jenn Cohen, Ravi Culbertson, Melissa DiMartino, Kaela Genovese, Vicki Gotha, Jennifer Hernandez, Sherron Permashwar, Bobbi Rottman, Arlene Smith and Kathleen Williams. The committee is chaired by Hernandez and Culbertson and is responsible for monthly philanthropic campaigns, events and endeavors supporting local nonprofits and the community.
For more information about WOW, or other chamber programs, visit www.wellingtonchamber.com or call Executive Director Michela Green at (561) 792-6525.