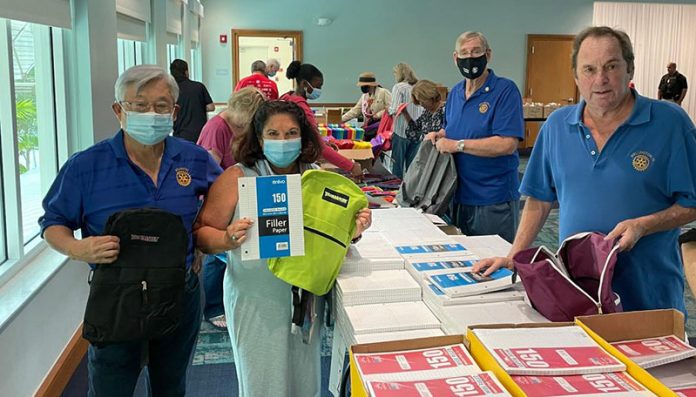 The Wellington Community Foundation was called on to organize local nonprofits to make a huge impact on children in need through the Village of Wellington's 2,500 backpack challenge.
Many local community partners stepped up to help deliver the 2,500 new backpacks to Wellington students for the upcoming school year. The mission was to collect as many school supplies as needed to fill the backpacks at the "backpack stuffing" event held Monday, July 19 at the Wellington Community Center. On Saturday, July 24, the village held three separate block parties where families were invited to participate with food, beverages and a ton of games to make it a fun-filled day for all. Backpacks filled with school supplies and hand sanitizer, school uniforms as well as children's books were distributed.
"We are grateful for the backpack challenge initiated by the Wellington Community Foundation, rallying other community partners for support and, in the process, making a difference for so many Wellington students," Village Manager Jim Barnes said.
Along with the village and the Wellington Community Foundation, event sponsors included the Christopher Aguirre Memorial Foundation, the Wellington Rotary Club, Women of the Wellington Chamber of Commerce, My Community Pharmacy, Premier Family Health, Prominence Health Plan, Baptist Health, the Joe DiMaggio Children's Health Specialty Center and Clinics Can Help.
Crucial funding was provided by My Community Pharmacy and Premier Family Health, among others. The Christopher Aguirre Memorial Foundation has supported the village's back-to-school efforts since the beginning and was proud to take part again this year. The Wellington Rotary Club stepped up to purchase the needed school supplies. The Women of the Wellington Chamber (WOW) merged its back-to-school event with the 2,500 backpack challenge to help make it a success.
Regional nonprofit Clinics Can Help stepped up to provide bottles of hand sanitizer for backpacks.