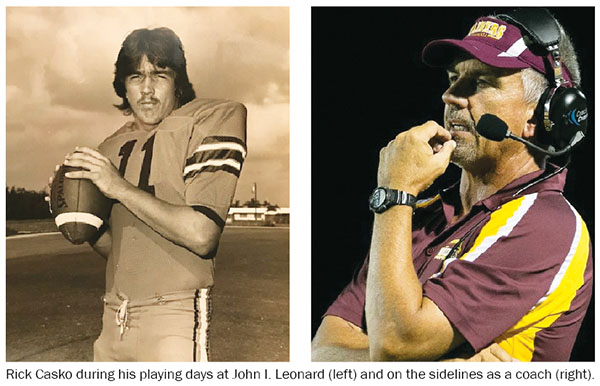 Seminole Ridge High School head football coach and Royal Palm Beach resident Rick Casko has been living the sport of football for more than 50 years. Casko has decades of experience as both a player and a coach. As you can imagine, Casko hasn't had too many free Friday nights in the fall since the 1970s.
While Casko is well known and respected as a football coach here in Palm Beach County for nearly 30 years, as well as in Georgia, where he coached for a dozen years, he had a successful career as a football player, which provided the foundation for his coaching role.
Casko played football from age 10 to age 24. Even though he later made his mark as a quarterback, he started out as an offensive and defensive lineman for a youth football program on Long Island in New York.
"I was a little husky," he recalled, chuckling. "But I quickly developed into the league's best throwing lineman."
In addition to his blocking and tackling duties, he also punted the ball on fourth down. "One of the only things I never did was return punts and kickoffs," Casko said.
Starting as a 10-year-old, Casko's football odyssey began in New York. He played there through his freshman year in high school. Then he moved to Florida and enrolled at John I. Leonard High School in Greenacres in the late 1970s. He became the team's starting quarterback early in his sophomore year. He remained in that key role for the Lancers the remainder of his high school career.
After high school, Casko accepted a full-ride scholarship offer to Drake University in Des Moines, Iowa. He had a stellar college football career for the Bulldogs. In his senior season, he was the sixth-rated college quarterback in the country and was named the Missouri Valley Conference Player of the Year. He also earned Associated Press Honorable Mention All-American honors and was a two-time All-Academic selection in the Missouri Valley Conference. He capped off his college career by playing in the 41st Blue-Gray All-Star Game on Christmas Day in 1980.
"That was a great experience, and I remember it well," Casko said. "We won the game 21-9. I scored a touchdown, and one of the assistant coaches on my team [the Blue team] was Jimmy Johnson, who was still coaching at Oklahoma State. Two of my teammates were future NFL stars Howie Long and Dexter Manley."
Casko and his Drake teammates had more wins than losses in their college careers.
"We had some good teams when I played at Drake," he said. "I can remember we beat the University of Colorado twice."
In the spring of his senior year, Casko tried out for Drake University's men's tennis team. He made the team. He had been a tennis player in high school. "I just wanted to stay physically active after football season," Casko explained.
He was then drafted by the Winnipeg Blue Bombers of the Canadian Football League. Casko almost made the team as a rookie quarterback. He survived until the final cut.
Casko then returned to the U.S., where he had tryouts with two teams from the now-defunct United States Football League — the New Jersey Generals and the San Antonio Outlaws.
However, a freak automobile accident while in San Antonio put a damper on his dreams of playing pro football. While in San Antonio, his right hand was injured when the car he was driving was hit by a drunk driver.
"Just as I was about to sign a contract, I was injured," Casko said. "I couldn't properly grip the football to throw it. So, I was released."
The dream of playing professional football was losing steam, but he remained in the sport as a coach.
Casko started coaching at Southeast Missouri State. He was the team's passing coordinator for two seasons, in 1982 and 1983. It was his job to call all the passing plays.
By then, he had, for the most part, given up his dreams of playing professional football. But then the phone rang. It was the Indianapolis Colts. The Colts needed another quarterback. So, Casko packed his bags and headed to training camp. "When those chances come along, you have to take them," Casko said.
He eventually was cut by the Colts, marking the end of his playing days.
"Unfortunately, I wasn't in the physical shape that I needed to be to make the team with the Colts, but I enjoyed the experience," Casko said.
He retreated to the sidelines as a coach, where he has remained ever since.
Casko's career choice to be a football coach was not a surprise considering how much time he spent preparing for football games as a player.
"I remember watching 16mm and VHS films of games every opportunity I had," Casko recalled. "I was listening to and learning from every word the coach said. I wanted to learn the schemes and the strategies to have the edge to be successful. I wanted to know everything about football."
His passion for the game was strong in those early days and, thankfully, it remains strong to this day.
Looking back, the decision to coach football was due to the positive influence of his two head coaches in high school and college.
"I had a high school football coach who was very passionate and really cared about kids," Casko recalled. "I had a college football staff at Drake that really taught the game of football. In college, it was another level of concept, scheme, film and strategies. I was drawn to the fact of 11 men working together for one common goal. I love the commitment and work ethic required to be successful as a team."
While it may be a cliché, success in football is based on the ability of a team to work together with passion and commitment to a common goal.
"I was drawn to the relationships, responsibility, selflessness, respect, trust and leadership developed through playing and coaching football," Casko said. "There is no better feeling than when you have a group of men working together for one common goal — selflessly — and are victorious together. It's not the same to be victorious alone."
Casko said that using football — and the 153 high school wins etched next to his head coaching name, to date — is his way to positively guide teenagers as they matriculate toward adulthood. It worked for him as a player, and it continues to work for the lives of the players he coaches.
When he's not thinking about football, Casko enjoys playing tennis with his wife, Debi, and playing golf with his son, Richard Casko III.