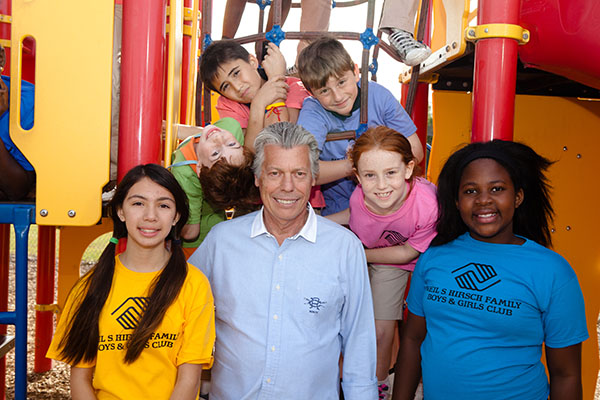 Wellington businessman Neil Hirsch died Thursday, June 24 at age 74, leaving behind a legacy that began by revolutionizing financial markets and ended with deep roots in Wellington's tight-knit polo community and a special concern for helping disadvantaged children.
A financial wiz at the tender age of 21, Hirsch arranged financing and formed Telerate, changing the way investing worked. He expanded the firm to some 80 countries before selling it in 1990 to Dow Jones. Hirsch later invested in the financial firm Loanet. Upon gaining a controlling interest, he grew the firm before selling it to SunGard Data Systems.
Locally, Hirsch was known for his love of polo, the sport that first put Wellington on the map. He founded the Bridgehampton Polo Club in New York and also became active in Wellington events with his Black Watch polo team. He later bought the Players Club, which for years served as the social epicenter of Wellington's equestrian season.
Yet one local legacy close to his heart was his support for the Boys & Girls Clubs of Palm Beach County. In fact, the Wellington club now bears his name, the Neil S. Hirsch Family Boys & Girls Club.
Boys & Girls Clubs of Palm Beach County CEO Jaene Miranda said she first met Hirsch when she moved to Wellington in 1994.
"We owned Michael's Pasta," she said. "Neil would come in with the polo team during season. Later, he and I would commiserate over the pitfalls of owning a restaurant, as he owned the Players Club at the time."
When she began working at the Boys & Girls Clubs, Hirsch was quick to offer his support.
"I sought his help, and he provided it," Miranda said. "Then one day, he asked me for a favor, knowing that I was associated with the Boys & Girls Club. One of his employees needed care for their child. We, of course, said, 'Yes, we could help,' and he realized the impact the club made for people who couldn't afford expensive daycare options."
Hirsch was intrigued and wanted to learn more. "We met with Neil and gave him a tour of the club and told him some stories about how we had helped local families. He was impressed. He knew everyone in the equestrian community and had lots of celebrity friends," explained Miranda about the initial support Hirsch provided. "When it came time to build a new club, he was interested in naming it and gave us $1.5 million for the naming rights, but he wanted to name it with his family, as the Neil S. Hirsch Family Boys & Girls Club, so it would continue to be a family charity."
Hirsch's wife and nephew will continue to be involved, and his nephew is joining the board now that Hirsch has passed on.
But it was more than Hirsch's name that went on the Boys & Girls Club.
"His heart was poured into it as well," Miranda said. "He was always very active. When we had Thanksgiving dinners, he would be the one serving the mashed potatoes with an ice cream scoop, teasing the children and adults as they came through the line. Every year, he bought 250 to 300 turkeys and would pass them out personally to the families. He set up the 'Halloween Trunk or Treat' event and would have his vehicle out there handing out candy."
Hirsch loved getting the Boys & Girls Club children involved in whatever he was doing.
"He would have a holiday event with his family at his home, and the club's children would be over singing Christmas carols, even though he was Jewish. All the kids knew him by name, he was Mr. Neil," Miranda said. "He would come by and walk through the facility to make sure everything was well-maintained and provide support if anything needed to be attended to."
Hirsch was also a leader in getting other members of the equestrian community involved.
"He had a great number of friends that he introduced to the organization," Miranda said. "Neil would have them come out for a club tour and to meet 'my kids' as he called them, even though he never had kids of his own. He was always seeking support from his friends and acquaintances. He opened up the whole equestrian world to us."
For the Boys & Girls Club, Hirsch wasn't just a wealthy donor, he was an active leader.
"Neil showed up and participated," Miranda said. "He was more interactive, and as he got involved in it, it really transformed him as well as he transformed the club. I think he saw this as his most important accomplishment. He was an amazing guy."
Miranda said that Hirsch loved all the kids, but there was a pair of twins who could be considered his posterchildren for the club — Tatiana and Bibiana Montoya, who are now 13.
"We've known him since we were six years old," said Tatiana, the initial spokesperson for twins who finish each other's sentences. "He was a fun, caring person… It was so much fun at Christmas, to go to his house. We would sing 'Jingle Bells' and other Christmas carols, and we had to memorize them."
The twins loved to see Hirsch's smile and the positive vibe that he always gave off. Right now, the twins both plan to be dancers and see college in their future. Miranda said that Hirsch had been working on a scholarship for them at the time of his passing.
Another Hirsch friend of some two decades is polo player Ignacio "Nacho" Figueras, a star on the field, and off the field when starring in Ralph Lauren advertisements.
Figueras told the Town-Crier that he first met Hirsch some 20 years ago. "First, I played against him, then later on his team, Black Watch," he remembered.
Figueras saw Hirsch as both a mentor and, eventually, a father figure.
"The first time I ever went to his house, when I first met him, he had a beautiful house. He obviously lived a wonderful life, and I teased him. 'You should adopt me.' It was a good joke, and I called him the nickname 'Dad' from then on. As the years went on, it became more literally true," Figueras said.