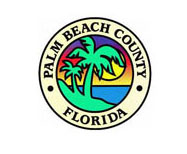 Palm Beach County is reminding the public that both COVID-19 vaccination and testing locations are widely available for all Palm Beach County residents. This includes most commercial pharmacies, doctors' offices and public health sites.
Currently, Palm Beach County and Florida Health are offering testing at the Mid County Senior Center west of Lake Worth.
This site is open seven days a week from 9 a.m. to 7 p.m. in the main auditorium at 3980 Lake Worth Road in Palm Springs.
Two drive-through testing sites are also open at the South County Civic Center (16700 Jog Road, Delray Beach) and the Palm Beach Gardens Branch Library (11303 Campus Drive, Palm Beach Gardens). These sites are open daily from 9 a.m. to 7 p.m.
For more info., visit the Palm Beach County COVID-19 web site at www.pbcgov.com/coronavirus.