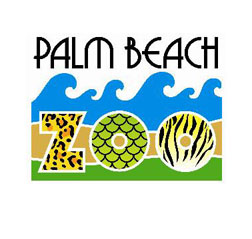 Don't miss Kids Free at the Palm Beach Zoo, running until the end of August. For each full-price adult admission, two children ages 3 to 12 will be admitted free. As always, children age 2 and younger are free at the Palm Beach Zoo.
The last weeks of summer are perfect for a visit to the zoo's winding shaded pathways, where you'll discover hundreds of rare and endangered animals. No visit is complete without a cool down at the refreshing Fountain Plaza splash pad (remember to bring a towel) and a slushy from the Tropics Cafe or Dippin' Dots.
The carousel and Lorikeet Loft feeding aviary open each day at 10 a.m. Lorikeets love nectar, and it is available for purchase for a hands-on experience with these colorful Australian parrots. Nature Play is another interactive spot at the zoo to climb and explore for children of all ages.
Plan your visit to the Palm Beach Zoo, located at 1301 Summit Blvd. in West Palm Beach, and save big until the end of August. Simply purchase an adult ticket online or at the gate, and two children will be admitted with the adult. For more info., visit www.palmbeachzoo.org.