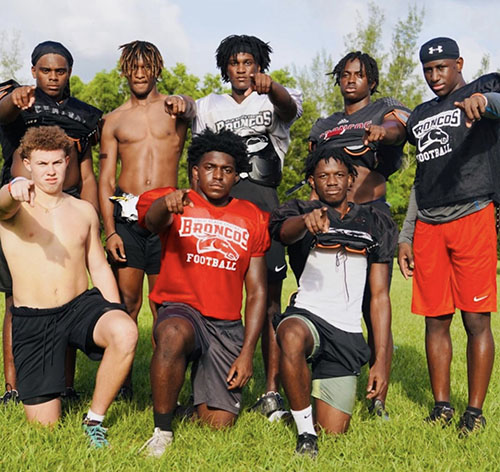 Palm Beach Central High School head football coach Scottie Littles, who is entering his third year in charge of the Bronco football team, is optimistic and confident about the season ahead.
This year, the Palm Beach Central football team is getting ready to make a push for the postseason. The Broncos certainly have enough players on the roster to get the job done. According to Littles, 125 players are competing for playing time on the varsity and junior varsity squads this season. Littles is encouraged by the goal-driven mindset of his players.
"We have a lot of talented players," Littles said. "I have realized how dedicated and hungry the players and coaches are after dealing with the COVID-19 season a year ago. Our players and coaches are ready to get back to competing for a state championship."
Palm Beach Central will aggressively compete to win every game.
"The strength of our team is the depth at each position," Littles said. "The COVID-19 season allowed us to play a lot of underclassmen and develop them into prime-time starters. I feel as if we have a handful of options on offense that can take over a game and score at any time. On defense, we return 10 of 11 starters, and they are explosive and physical. The players have really bought in and are ready to achieve great things this year."
Littles has a number of playmakers on both sides of the line of scrimmage. On offense, the key playmakers include quarterback Ahmad Haston, wide receiver Javorian Wimberly, wide receiver Luby Maurice, wide receiver Cody Wasielewski, running back Tyler Young, wide receiver/defensive back Markel King and running back Devin Wygant.
On defense, the leading players for the Broncos will be defensive back Justin Bostic, outside linebacker Mike Lucien, defensive back Sheridan McDonald, defensive back Ka'Ron Young, inside linebacker Aramian Frasier, defensive end Donahue Hacker, defensive tackle Augustus McKoy and outside linebacker Steven Quintero.
Palm Beach Central fell to Atlantic High School 31-20 on Friday, Aug. 20 in a preseason kickoff classic game. The Broncos' season opener is at Forest Hill High School on Friday, Aug. 27. Kickoff is scheduled for 6:30 p.m.
At Seminole Ridge High School, head football coach Rick Casko is entering his fourth year as the leader of the Hawks. Casko, 62, has been a high school football coach for nearly 40 years, here in Palm Beach County and in Georgia.
Casko's emphasis on details is why he has experienced so much success as a coach. For him, it starts with being on time. To emphasize the importance of timeliness, the starting times for his after-school practices at Seminole Ridge change from time to time, often by just a minute or two.
"I will change practice times on the board so the players will pay attention," Casko said. "It helps them focus and understand the importance of being on time."
There are currently 54 players on Seminole Ridge's varsity football roster. Of those 54 players, there are six returning starters on offense and six on defense.
Since preseason practices began, Casko and his crew have avoided two big pitfalls: afternoon thunderstorms and the COVID-19 virus.
"We've been able to get all of our practices in, and we have had no COVID-19 issues," Casko said.
As a result, the Hawks have been able to work on establishing the foundation of their schemes and formations.
"We have established our base offense, our base defense and have been working on good mental football," Casko said. "We have also worked really hard on improving our conditioning."
One of the stars of special teams for Seminole Ridge's football squad this fall will be senior placekicker Hayden Gray.
"Hayden can easily make a field goal from 40 yards and possibly as far as 45 yards," Casko said. "Hayden has a 4.2 GPA and is also a pole vaulter for the track team. He's a great athlete and is smart."
As is the case every year, Casko will be looking for game-day, on-the-field leadership from a handful of players. In addition to leading by example during games, he is expecting those same leadership qualities from his key players in the locker room, at practice and on the bus trips to away games.
Senior Luke Davis anchors the offensive line as the Hawks' starting center. He will also play linebacker on defense from time to time. "Luke is simply a tremendous leader," Casko said.
Playing on either side of Davis as his left and right guards will be a set of twin brothers, Jordan and Jayden Reyes. "Jordan and Jayden are two great kids who are somewhat late to football," Casko said. "Both have worked really hard in the weight room."
When Davis and the Reyes brothers do their job as blockers, they will open up holes for talented running back Sean Tirado. "Sean is a rock-solid player who is very coachable," Casko said.
Senior tight end Daniel Medina will be expected to run, block and catch passes for Seminole Ridge this year. "Daniel is a really good athlete who stands 6-foot-2 and can run well," Casko said. "He has also been offered a collegiate scholarship to play football at Keiser University."
On defense, Casko will be looking for linebacker Hunter Goss to lead by example.
"Hunter is so passionate about football, and he's a tough dude on the field," Casko said. "He's also a 4.0 student."
Seminole Ridge played at Palm Beach Lakes High School on Friday, Aug. 20 in a preseason kickoff classic game, falling to the Rams 25-15.
"We treated that game as a pre-season game and tried to get our backup players in the game in the second half," Casko said.
The Hawks open their season at home when they host the Santaluces Chiefs on Friday, Aug. 27. The kickoff is scheduled for 6:30 p.m.