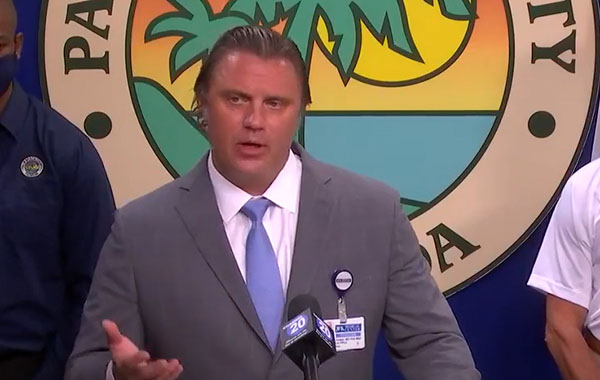 Palm Beach County Mayor Dave Kerner and medical staff from the Palm Beach County Health Department and JFK Medical Center updated the community Monday, Aug. 9 on the status of the COVID-19 pandemic.
Speaking from the Palm Beach County Emergency Operations Center, Kerner said that the spread of COVID-19 is once again out of control, primarily due to people who aren't getting vaccinated.
"Our purpose today is to speak directly and candidly with the residents and visitors of Palm Beach County," Kerner said. "There are concerning trends with regard to COVID-19 in our community. We want to give you the best information possible related to the vaccine, which has proven time and time again to be the most effective weapon in combating the virus."
Kerner said he understands that people are fatigued as a community and as a nation with combating a virus that has been circulating in the community since March 2020 and having to deal with the stresses and dangers of COVID-19.
"We are also aware that there are segments of our population for very personal reasons that are not willing at this time to get vaccinated," he said. "The good news is that, as of today, 67 percent of our population here in Palm Beach County has been vaccinated. We lead the state by a couple of percentage points, but we're not to the point that herd immunity will protect us from COVID-19. We are also aware of the Delta variant and how that changes our combat of COVID-19."
Kerner stressed that the Health Care District of Palm Beach County offers free vaccinations and can set up vaccinations for employees of private businesses by visiting the www.hcdpbc.org.
Florida Department of Health-Palm Beach County Director Dr. Alina Alonso said the average daily case count has been 1,180 per day, up 180 cases since Aug. 3.
"We knew the Fourth of July was a super spreader across the country, and it was here also," Alonso said. "Our national cases have reached more than 100,000 per day starting July 30, with a reported high of 124,298 on Aug. 6."
She said the difference in cases after the Fourth of July last year is that the cases started to recede last year after July 17 until Sept. 22.
"This year, our cases continue to climb, stressing our hospital systems, threatening businesses and the younger lives, including our children, having to go to the hospital and suffering from COVID-19 and the long-term effects of the virus," Alonso said. "This is mostly due to the Delta variant."
She stressed that the vaccines are very effective against the Delta variant, even though the variant is much more contagious and creating breakthrough cases. This means that people who are vaccinated may still catch it, but they are rarely so afflicted that they must go to the hospital.
"That is the purpose of the vaccine, to make sure that you don't have to go to the hospital, and that you don't die," Alonso said. "But we need to help the vaccine by first getting the vaccine."
People are continuing to get vaccinated, but the process needs to move faster. "We need to beat the Delta," Alonso said.
The health department still maintains a testing site in Lantana. "We thought the people need to have at least a government site that people feel safe to go to," Alonso said.
There are 109 different vaccination sites in Palm Beach County. They can be located by visiting www.vaccines.gov. The site to locate free testing is at www.hhs.gov.
"The only way out of this is through vaccination," Alonso said. "We need everyone's help to get this done. As a community, we need to erase the misinformation that is out there, speak the truth, and urge our friends and colleagues to get vaccines."
As for children under 12 who cannot yet get vaccinated, she urged the people who are around them to get vaccinated to reduce the chance of that child catching the virus.
Dr. Raymond Golish, chief medical officer at JFK Medical Center, said he respects people's right to autonomy and to make personal decisions, but cited a need for responsibility to oneself and to the people around them in an unprecedented situation.
"When we think about vaccination as a personal choice, the simple fact is that a hospital as large as JFK, we are able right now to care for the people who come to us for service. However, we are extremely full. We are as full as we have been at any time during the pandemic and getting fuller," Golish said. "There's no signs yet, based on the information in front of us, of any sign of a downtrend."
He said it is difficult to imagine people needing complex technology to sustain their life in the face of an available vaccine. He also pointed out that the vast majority of people ill enough to require admission to the hospital, needing oxygen and complex medical treatments, are unvaccinated.
Dr. Mazyar Rohani, director of the emergency department at JFK, said his 55,000-square-foot unit has increased its 78-bed capacity.
"As of this morning, we expanded to 96 beds in order to care for COVID-19 patients," Rohani said. "What we really need to do is decrease transmission. Really, the only way to decrease transmission is to get vaccinated. Get vaccinated, wear your mask, and if you are sick, you need to stay home."
Although some breakthrough cases have been reported of vaccinated people getting COVID-19, almost none of those cases result in severe illness requiring getting hospitalized, he said. "It is the unvaccinated who are suffering," Rohani stressed.
Kerner said that the United States is fortunate to have a vaccine that is not available in most of the world.
"We've made a commitment that when we speak to you from this podium, there is not politics injected into it. There are not personal perspectives injected into it," he said. "There are facts as we know them, and due diligence that goes with it, but the vast majority of those that are admitted to the hospital are not vaccinated."
Learn more about COVID-19 efforts in Palm Beach County at www.pbcgov.com/coronavirus.
Watch the news conference here: