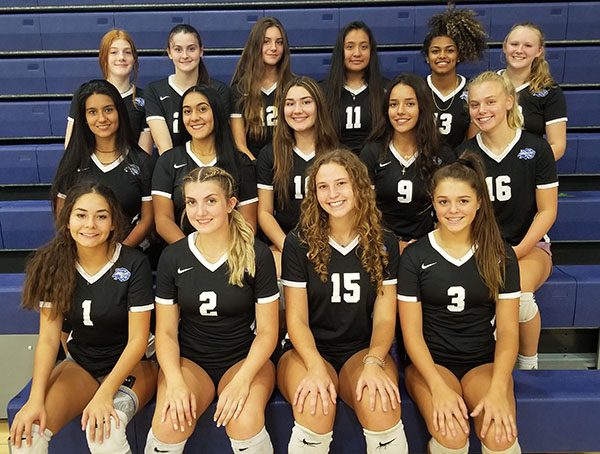 The season is now underway for the Wellington High School's girls varsity volleyball team, and head coach Duane Carroll is strongly optimistic about this year's squad.
The second-year head coach, who also teaches U.S. history at WHS, had a strong team last fall during a season impacted by the COVID-19 pandemic. Last year's squad posted a winning record of 10-3.
Carroll's roster of 17 players is deep, talented and experienced, as he returns nine players from last year's unit. According to Carroll, if his team can truly gel and play together well, the wins and losses will take care of themselves.
"My expectation of the team this year is to trust each other and make each other better players," Carroll said. "And to learn from each other to make the team better."
If he needs more players, he can promote one of the 15 players on the junior varsity squad or any of the 13 players on the freshman team. Girls volleyball, it seems, has a big following at WHS.
Carroll has lofty expectations for the Wolverine girls this fall.
"Our objective is to go and play for the state championship," he said. "Many of our girls play club volleyball with and against one another throughout the year. So, they're all experienced players, and they know each other. Now, they get to play as teammates."
Even though Carroll's players spend the majority of the calendar year playing competitive volleyball for local clubs, he insists that his players only wear outfits in practice that reflect their allegiance to Wellington High School.
"Right now, they are Wolverines, and they play for Wellington High School," he said. "That will help build team chemistry and togetherness."
Carroll is more focused on enhancing his team's overall mental approach to team volleyball than on improving their volleyball skills.
"I preach togetherness, and I want my players to have fun out on the court," he said. "I'm not going to worry about them making a mistake, and I don't want them to worry about making mistakes, either. The volleyball doesn't remember what you just did."
When Carroll looks at his squad, he sees great depth and talent. "I really have enough players for two great teams," he said.
Throughout the season, Carroll will be looking for key contributions from every player on his roster, but some will play a bigger role than others, which is the nature of playing team sports.
According to Carroll, senior outside hitter Arianna Beckham brings "tenacity and spirit to the team."
Another key senior on the team is Alyssa Haggerty. "Alyssa is one of our big leaders on and off the court, during practice and in games," Carroll said.
One of the key new additions to the team is senior transfer Kaylee King. She will be one of the liberos for Carroll's squad. Last year, she was enrolled at neighboring Palm Beach Central High School. "Kaylee reads the ball well, is a strong passer, and is excellent on defense," Carroll said.
Another key addition to the varsity squad is sophomore Ava Rodgers. "As a freshman last year, Ava was a strong player for the junior varsity. She is a multi-role player for us and is a much-improved passer," Carroll said.
Carroll is also expecting big contributions from his three juniors, all of whom are talented and experienced setters.
"I have great confidence in Valeria Martinez-Vargas, Lauren Scully and Rebecca Daniel, who are great setters," Carroll said. "Valeria is a transfer student from Peru."
Most area volleyball teams play an exhibition game prior to the start of the regular season, but Wellington did not this year. There was a good reason why they just practiced among themselves until their season opener. "We did not play in a pre-season scrimmage this year," Carroll said. "We had some COVID-19 issues."
The Wolverines opened their 20-game regular season on Monday, Aug. 23 against the Lions from Olympic Heights High School. On Tuesday, Aug. 24, they played their home opener against Spanish River High School. The Wolverine girls won both matches. They defeated Olympic Heights 25-16, 25-15 and 25-20, and Spanish River 25-22, 15-25, 25-22 and 25-17.
Regular season games will continue until Oct. 14. After that, it's time for the Florida High School Athletic Association's district tournament, and then hopefully pursuing the FHSAA state title — all while having fun along the way.