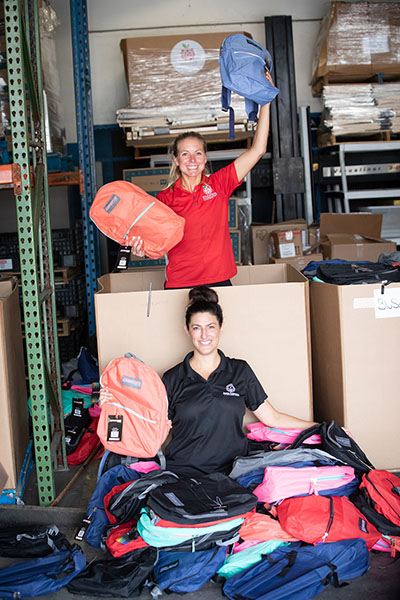 As part of a large-scale back-to-school volunteer initiative led by the Jewish Federation's Jewish Volunteer Center, in partnership with Education Foundation of Palm Beach County, dozens of community members assembled more than 6,000 backpacks filled with new school supplies to ensure students in Palm Beach County Title 1 schools had the tools they need when they returned to school.
Throughout the month of July, individuals and families dropped off more than 2,100 backpacks they assembled at home as part of a socially distant volunteer effort. Many gathered with family members of all ages, neighbors and colleagues to ensure that the district's highest-need students can return to school prepared with the necessary tools and with dignity. Dozens more volunteers spent hours on-site at Red Apple Supplies in Riviera Beach to assemble backpacks to be sent to the schools. The federation also donated more than 3,000 books, which will be given to students to help them grow their personal library.
"Every child deserves to have a new backpack and school supplies so they can begin the school year proud and excited to walk through their school hallways, and have the necessary academic tools to succeed," said Melissa Hudson, director of the Jewish Volunteer Center at the Jewish Federation of Palm Beach County. "It's an honor to expand this effort through the Jewish Volunteer Center and the Education Foundation, with our network of partners to support those in our community who need it most."
Through this initiative, JVC also partnered with a new organization called Amy's Army, created this summer by a group of friends to honor local resident Amy Russell, who passed away in 2020 after a fight with leukemia. Amy's Army collected backpacks and school supplies for area nonprofits, including 28 loaded backpacks for Family Promise, 30 loaded backpacks for Extended Hands Community Outreach (ECHO) and a large quantity of additional school supplies for ECHO.
For more information about the Jewish Federation of Palm Beach County's commitment to the community, visit www.jewishpalmbeach.org. For volunteer opportunities, visit www.jewishvolunteer.org.