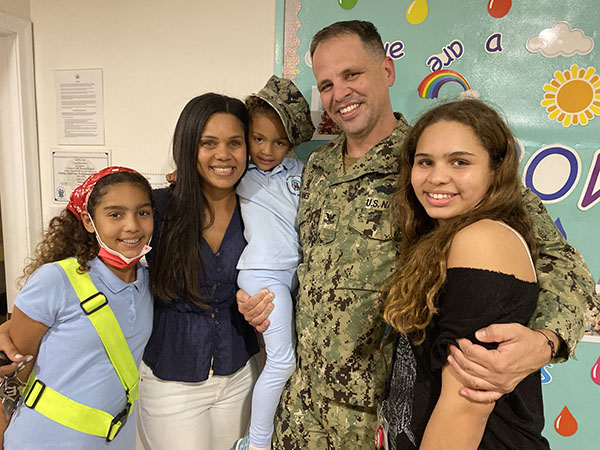 Owner Frank Toral and the entire staff at Neighborhood Kids Preschool in Wellington worked to surprise young student Bianca Nunes with the unexpected return home of her father, Navy Seabee Petty Officer 2nd Class Ricardo Nunes.
Ricardo returned home Friday, Sept. 17 from the Middle East, where he was stationed for the past 11 months.
His wife, Fabiula, worked with the preschool to surprise their four-year-old daughter with his unannounced return. "He literally landed at the airport, got into the car and drove straight to their schools," Fabiula said.
Neighborhood Kids Preschool Director Melissa Edwards worked with the staff on "Welcome Home" banners to place at the front entrance, creating a warm welcome for the returning hero.
The plan was simple — have Ricardo walk into a room filled with preschoolers and just surprise everyone, and that he did. He entered the building and thanked the staff before entering his daughter's classroom. After only a few seconds, Bianca noticed. After all, the 6-foot-4 man dressed in fatigues was hard to miss. Her smile lit up the room as she ran as fast as her legs would take her, stretched her arms wide open and leaped into his hug.
Ricardo's initial surprise was to his older daughters, 10-year-old Yasmin and 12-year-old Juliana, at their schools. Both girls said they were happy to have their father home. "I am so happy he is home. I love him, and I am glad he is back home safe," Yasmin said.
Juliana said she was shocked by the surprise, because her mother told her he wouldn't be back for two weeks. When she saw him, she didn't know what to say. "I was a great surprise," her father added.
When Bianca was asked if she was happy, she shook her head and hugged her father a bit tighter. Mom Fabiula said it means the world to her to have him back. "It has been a long journey without him," she said. "Thank God he is back."
Her husband said the feeling was mutual. "It's good to be back," he said. "Really good to be back."
Once the commotion calmed down, Toral took a minute to thank Nunes for his service the to the country.