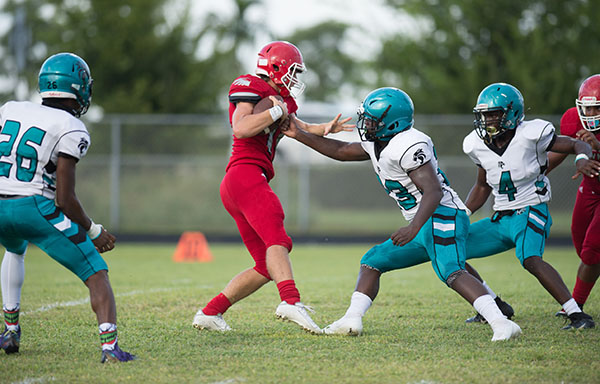 It didn't take long for the Seminole Ridge High School football team to establish its dominance over local rival Royal Palm Beach High School when the Hawks hosted the Wildcats at Callery-Judge Stadium on Friday, Sept. 10.
The visiting Wildcats (0-2) had no answer for Seminole Ridge's dynamic duo of running back Sebastien Christian and quarterback Will Rimes, as the Hawks prevailed 41-0.
In the game, Christian ran for 156 yards and four touchdowns, while Rimes added 99 yards rushing. The game was ruled official and ended early in the fourth quarter with heavy rain and lightning in the area.
The Hawks (3-0) took the opening kickoff and marched 80 yards in five plays to take an early 7-0 lead. That touchdown drive by the Hawks was capped by a third-down, 51-yard run to paydirt by Christian.
That scoring drive started a tidal wave of points, as coach Rick Casko's Hawks scored touchdowns on five of their first six drives. At halftime, the Hawks led 35-0. Christian scored three of those five first-half touchdowns.
Teammates Sean Tirado and Caleb Gregoire added the two other touchdowns in the game for Seminole Ridge.
The final play of the game turned out to be the defensive play for the Hawks, as defensive back Kevin Coggins intercepted a pass by Royal Palm Beach quarterback Andreas Jakusik in the end zone, which preserved the shutout for the Hawks.
In the game, Hawks placekicker Hayden Gray converted five of six PAT attempts.
Casko was pleased with the effort by his team.
"We executed well on offense. Our goal was to do better in this game than we did in the previous game, and we did," Casko said. "Our defense was strong."
With the victory, Seminole Ridge retained ownership of the rivalry trophy, which is up for grabs every year when the Hawks play the Wildcats on the gridiron.