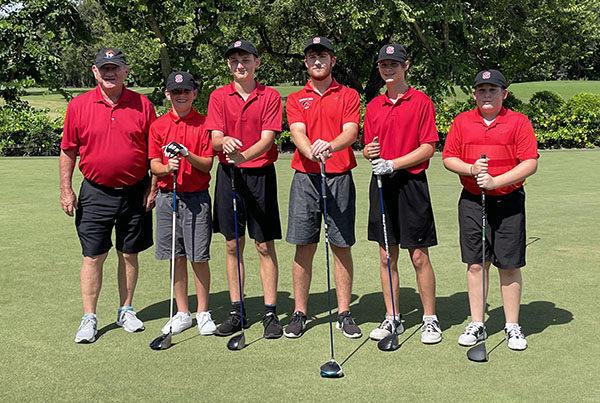 The boys and girls golf teams at Seminole Ridge High School are having a strong season heading into the district tournament.
The boys varsity golf team is young, getting better, focused on the present and looking forward to the future.
According to head coach Mychal Teman, his team of five players has a targeted mindset.
"The team has shown improvement through dedication and hard work this season," said Teman, who is in his first year as the school's boys golf coach. "We have a couple of beginners who are now finishing rounds in the 50s for nine holes. As a beginner, that is great! We are learning the intricacies of golf that have helped us to feel confident and as if we belong with the top teams."
Teman's golf team this fall consists of freshmen Jake Wallace and Jack Marshall, sophomores Nicholas Kohl and Nathan Vertes, and junior Zachary O'Neill.
Two of the players are consistently shooting the best scores for the team.
"Right now, we have two guys who have separated themselves as the top two players on the team," Teman said. "Nathan Vertes and Zachary O'Neill have nine-hole averages of 43 and 44, respectively. Nathan Vertes has a very consistent swing and is very strong minded. These two characteristics are key to being successful in golf. Zachary O'Neill hits the ball extremely far, which allows him to have shorter shots to the green, which is definitely an advantage."
According to Teman, Vertes has the "shot of the year" for the team so far this fall. "He chipped in from 40 yards out in one of our matches," the coach said of Vertes.
After the team's first 10 matches, Seminole Ridge has five wins and five losses, but the team's win-loss record is not a reflection of their success this fall.
"We are having a great year as a team and improving daily," Teman said. "This year, there is a lot of great competition in the district and throughout Palm Beach County."
While the boys golf program at Seminole Ridge is solid now, it could be very exciting in the not-too-distant future.
"As a team, we are returning every player for next season, and we are looking forward to the future," Teman said. "Our players understand where they are as players and what each of their goals are for their future."
The immediate goal for Teman's squad is to get physically, mentally and emotionally ready for the Class 3A district golf tournament, which will be held at the Wellington National Golf Club on Monday, Oct. 25. A strong performance by the team and any individuals at the district tournament will continue their season into the Class 3A regional tournament on Nov. 2 at the Deer Creek Golf Club in Deerfield Beach. After that, it's the Florida High School Athletic Association's Class 3A state championships on Nov. 16-17 at the Mission Inn Resort & Club in Howey-in-the-Hills near Orlando.
Stacey Critchlow, the head coach of the girls varsity golf team at Seminole Ridge, knows what it takes for high school golfers to advance to the FHSAA's annual state golf tournament.
"Top golfers are serious about the game, practice hard and work each day on improving their skills," said Critchlow, who has been the head coach of the girls team at Seminole Ridge since 2005. "As a coach, I've been fortunate to have been to the state tournament two times."
While Critchlow's current girls golf team may not be ranked as one of the top high school teams in the state, her squad is talented, driven and has improved throughout the season.
"Each girl has improved their game by shaving off strokes each match by working on their short game," explained Critchlow, whose team practices and plays its home matches at the Village Golf Club in Royal Palm Beach.
Critchlow's current squad features five players, four of whom will be returning next year. This year's squad includes senior Dakota Demarco, junior Kylie Martin, sophomores Sydney Rogers and Cristina King, and freshman Annika Collado.
According to Critchlow, Collado and Martin are her two steadiest and most consistent players. Collado's nine-hole average score is 48, while Martin averages 50 shots for every nine-hole match.
All five members on the Seminole Ridge girls team have time to hone their skills before they play in the Class 3A district golf tournament on Oct. 25 at the Wellington National Golf Club.
Critchlow is hopeful that some of her players will extend their season beyond the district golf tournament.
"I'm always hopeful that we can advance at least one player to regionals, and I'm hoping to see that with either Annika and/or Kylie," Critchlow said.