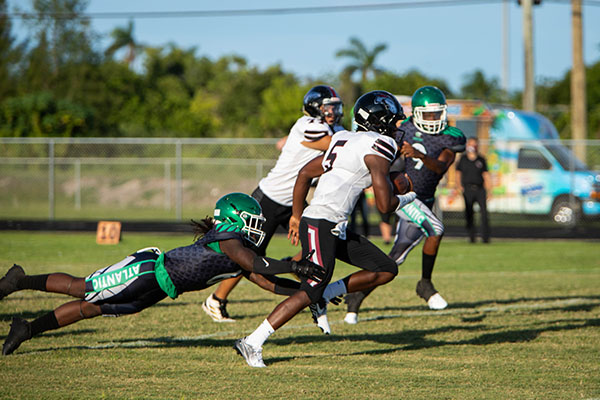 On Friday, Oct. 1, the Palm Beach Central High School football squad put their undefeated record and their No. 5 Class 8A state ranking on the line when they hosted the Jupiter High School Warriors. When the final horn sounded after 48 minutes of play, the Broncos prevailed 43-21 to improve their record to 5-0.
The Broncos have averaged more than 50 points per contest during their first four games. On Oct. 1, the team continued to get big production from quarterback Ahmad Haston, wide receiver Javorian Wimberly, running back Markel King and running back Aldorson Estinvil.
In the win against Jupiter, Haston threw for 198 yards and three touchdowns. Wimberly caught two passes for 80 yards and a touchdown, while King caught one 30-yard touchdown pass and ran 30 yards for another touchdown. Estinvil ran for 160 yards and two touchdowns.
Palm Beach Central head football coach Scottie Littles was pleased with his team's victory over Jupiter, which provided stiff competition for the squad. Littles knows his team can and must play better.
"Jupiter presented some challenges for us with its wing-T offense," Littles explained.
Even though his team has an undefeated record, Littles knows they can and must play better moving into the second half of the season.
"Right now, we are nowhere near where we need to be," Littles said. "We are working at getting better every week."
The Broncos will seek their sixth-straight victory when they play at home against the Cobras from Park Vista High School on Friday, Oct. 8. This game will be one of the featured high school football games in the state, as both the Broncos and the Cobras will be entering the game with identical 5-0 records. The game will kick off at 6:30 p.m.
"We're excited to play against another undefeated team at home in front of our fans," Littles said. "We're just trying to go 1-0 every week."
Seminole Ridge Hawks Notch Two More Wins — On Sept. 24, Seminole Ridge High School running back Sebastien Christian ran for 244 yards and four touchdowns on 21 carries to lead the Hawks to a convincing 52-18 victory over Inlet Grove High School in Riviera Beach. Hawks quarterback Will Rimes added 93 yards rushing and a pair of touchdowns in the game. As a team, the Hawks had 484 yards of total offense.
The game was competitive for the first quarter, as Inlet Grove led 12-10 after the first 12 minutes of play. But the Hawks took the lead and kept it in the second quarter, leading 24-12 at halftime. Seminole Ridge's offense continued to generate points in the second half, but the defense only allowed Inlet Grove one second-half touchdown. The Hawks improved their record to 5-1.
On Oct. 1, Christian ran for 144 yards and a touchdown to lead the Hawks to another victory on the road — a 34-0 win against Fort Pierce Westwood in a district matchup. Rimes also had a strong game, as he ran for 60 yards, which included a 10-yard touchdown in the second quarter and an eight-yard touchdown pass to teammate Brian Trowbridge in the third quarter. Placekicker Hayden Gray added a pair of second-half field goals in the game. The Hawks, now 6-1, led 14-0 after the first quarter of play and 21-0 at the intermission.
The Hawks have a bye week on Friday, Oct. 8. On Oct. 15, Seminole Ridge returns for the first of three consecutive home games against Sebastian River High School, Park Vista High School and William T. Dwyer High School, before concluding their regular season on Friday, Nov. 5 at Wellington High School.
Wellington Claims Two Shutout Victories — On Sept. 24, the Wellington High School Wolverines earned their second victory of the season and evened their record at 2-2 when they blanked the Lancers from John I. Leonard High School in Greenacres, 49-0. The victory also leveled Wellington's district record at 1-1.
The Wolverines sprinted to a 22-0 lead after the first quarter and led 36-0 at halftime. Wellington added 13 second-half points. Of Wellington's 345 yards of total offense, the Wolverines churned out 246 yards on the ground.
On Thursday, Sept. 30, the Wolverines hosted the Wildcats from Royal Palm Beach High School for their annual rivalry battle for gridiron supremacy. The Wolverines earned football bragging rights for the next year, as they blanked the Wildcats 43-0.
Wellington struck quickly with a 22-point first quarter. The Wolverines added another 14 points in the second quarter to give them a 36-0 halftime lead. The victory improved Wellington's record to 3-2, while the Wildcats fell to 0-5.
The Wolverines' next game will be on Friday, Oct. 8 when they host the Santaluces High School Chiefs. Kickoff is scheduled for 6:30 p.m.
Tough Season for RPBHS Wildcats — It has been a tough season to date for the football team from Royal Palm Beach High School and its head football coach Darin DeCosta. Back on Sept. 24, the Wildcats lost their fourth game of the season when they fell at home to Park Vista 69-0. That was followed by the 43-0 loss to Wellington. The Wildcats' next game will be a district matchup on Friday, Oct. 15 when they host Palm Beach Gardens High School starting at 6:30 p.m.