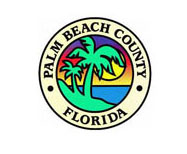 The Palm Beach County Commission voted 6-0 on Tuesday, Nov. 2 to initiate eminent domain proceedings to condemn properties along Royal Palm Beach Blvd. in order to widen the road from two lanes to five lanes without a median.
The project will run from the M Canal to 68th Street North, south of Orange Blvd.
A total of 66 parcels will be needed to complete the project, nine of which settled prior to a lawsuit and are not subject to eminent domain proceedings.
The engineering department recommended a motion to adopt 45 resolutions to initiate eminent domain proceedings for the remaining 57 parcels, which have a total value of $1,004,430, needed for the widening project.
Palm Beach County Engineer David Ricks said three whole parcels are needed for drainage, all of which settled pre-suit, and 45 swale drainage easements, three of which settled pre-suit, four right of way easements, one embankment easement and 13 temporary construction easements, three of which settled pre-suit.
"Most of the acquisition is part of the frontage of that corridor," Ricks said. "We did do some outreach in the design phase over two years ago. In terms of the overall corridor, this is a major transportation corridor."
He said future projects along the corridor include work from 78th Place North to Northlake Blvd. from two to five lanes in fiscal year 2024, from north of Persimmon Blvd. to north of the M Canal from two and three lanes to five lanes in fiscal year 2025, and Royal Palm Beach Blvd. to Orange Blvd. from south of 68th Street North from two to five lanes, which is now under design with construction not yet funded.
Palm Beach County Mayor Dave Kerner asked if the owners had been notified of the commission meeting on Tuesday, and Ricks said they had been notified, but there were no speakers at the meeting.
District 6 Commissioner Melissa McKinlay asked Ricks about the drainage easements along the corridor.
"You're going to fix the swales and make the swales appropriate in the front yards of these properties?" she asked. "You're not tearing it out and putting pavement on there, are you?"
Ricks said the condemnation was to install proper drainage for the road.
"So, the aesthetics of the owners' property won't change drastically?" McKinlay continued.
McKinlay made a motion to approve the proceeding, which carried 6-0 with Commissioner Maria Marino off the dais.
The project is scheduled for construction in fiscal year 2022 at a budgeted amount of $6 million and is included in the five-year road program.