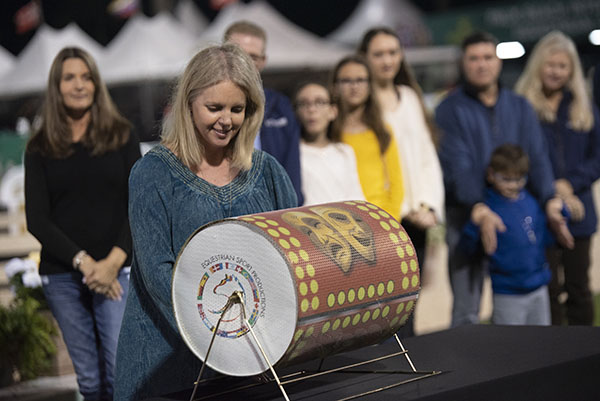 For the 2021 Great Charity Challenge, presented by Fidelity Investments, an event founded by the father/daughter team of Mark and Paige Bellissimo in 2009, COVID-19 highlighted that nonprofit organizations and civil society stood at the core of the community's resilience.
To respond to the devastating effects of COVID-19, the last edition of the GCC in February 2021 shifted a majority of its funding priorities toward local nonprofits who were directly supporting and assisting the most vulnerable and affected populations in Palm Beach County. Thanks to the support of 64 donors and countless brave riders, 49 local charities were able to put $1.1 million to work, ensuring that many children, families and seniors were able to be fed, keep a roof over their heads, and have access to the most basic services during the pandemic.
Through the generous support of the equestrian industry and the local community, the GCC has acted as a catalyst for charitable giving over the last 12 years, distributing $15.9 million to 276 Palm Beach County nonprofit organizations.
The event will return for its 13th year on Saturday, Feb. 5, 2022, at the Palm Beach International Equestrian Center, home of the Winter Equestrian Festival, with the goal to distribute an additional $1 million-plus purse to local charities.
If you know of a deserving Palm Beach County-based charity, invite them to visit https://gcc.coth.com/page/participate-as-a-non-profit for additional information regarding application requirements and the event's unique selection process.
The application process for the 2022 GCC exclusively opened Monday, Oct. 25 and closes at 5 p.m. on Monday, Nov. 15. At stake is a chance to win up to $100,000.
"We are extremely grateful for the continued support of our generous donors and sponsors," Executive Director Anne Caroline Valtin said. "In addition to fund disbursements, the GCC's strategy involves capacity building and enabling invaluable partnerships, as well as concentrating on amplifying the event's impact. The pandemic has taught us that moving forward, we must focus on supporting those who provide immediate needs in the community, but also those who work toward long-term, sustainable change."
Following the format of previous years, and to guarantee transparency, up to 20 pre-vetted organizations will be randomly selected via the event's famous lottery-style drawings during the months of December and January. Additional smaller grants will also be awarded via a random selection process to nonprofits who pass the GCC's vetting. These grants will range between $1,000 and $10,000.
To be eligible, applicants must, at a minimum, demonstrate that they are a 501c3, serve residents of Palm Beach County, have a physical presence, commit to spending a minimum of 75 percent of funding received in the county, and have a non-discrimination statement and/or policy.
For additional event information, including information about the application process, donations and sponsorship opportunities, visit www.greatcharitychallenge.com.